, Corinna Eleni Psomadakis2 and Bobby Buka3

(1)
Department of Family Medicine, Mount Sinai School of Medicine Attending Mount Sinai Doctors/Beth Israel Medical Group-Williamsburg, Brooklyn, NY, USA
(2)
School of Medicine Imperial College London, London, UK
(3)
Department of Dermatology, Mount Sinai School of Medicine, New York, NY, USA
Keywords
Burn
Scald
Blister
Cellulitis
Partial-thickness
Full-thickness
Thermoregulation
Hydrogel
Hydrocolloid
Dressing
Topical antibiotic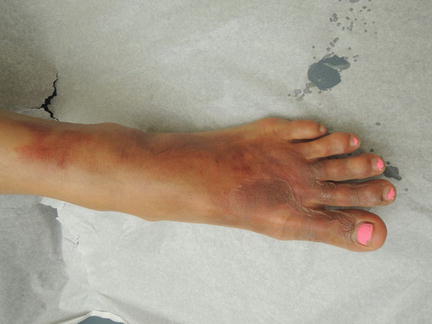 Fig. 33.1
Areas of erythema proximal to blistered areas represent more superficial injury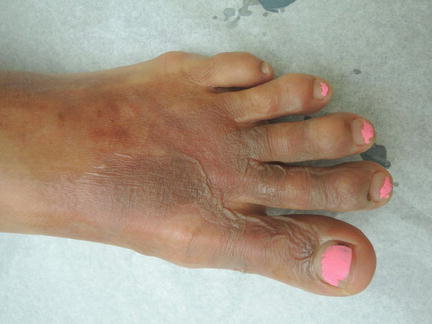 Fig. 33.2
Figurate bullae with serous drainage dorsal foot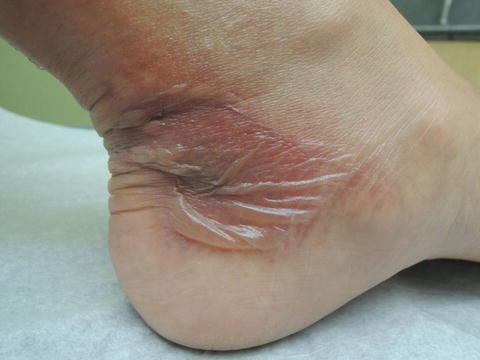 Fig. 33.3
Flaccid bullae at left ankle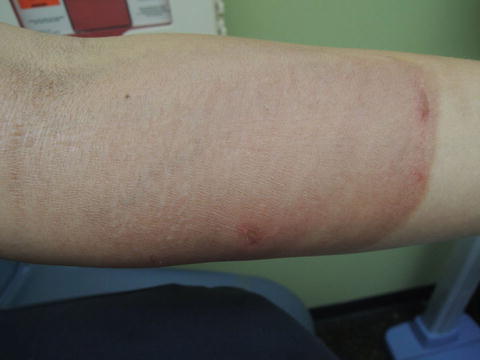 Fig. 33.4
Note sharp cutoff most consistent with an external source
Primary Care Visit Report
A 39-year-old female presented with burns to her foot, ankle, and forearm. Five days prior, she had been carrying a pot of boiling water when it slipped out of her hand and scalded her left foot and her left forearm. Immediately after the incident, the skin of the left foot and ankle blistered . She had been putting Neosporin on the burns, wrapping them in gauze, and wearing her clogs to continue working as a professional cook . She had been taking 400–600 mg ibuprofen every 6 h as needed for the pain. She came in to be seen because the pain was becoming intolerable.
Vitals were normal. On exam, the left dorsal aspect of her left foot and toes had a 12 cm × 17 cm erythematous base with an overlying intact roof from burst bullae (with no remaining fluid inside). The left medial heel area had a 4 cm × 6 cm erythematous base with intact bullae, and the left forearm had an 11 cm × 7 cm erythematous macular area, with no blisters or bullae.
The patient's burn was treated with silver sulfadiazene and the area was wrapped in gauze, with instructions to change the dressing twice daily. The patient was also referred to a burn clinic given the involvement of her toes and ankle. The patient was given a prescription for 50 mg tramadol every 6 h as needed to help with pain control. Her tetanus immunization was up to date.
Discussion from Dermatology Clinic
Differential Dx





Thermal scald burn






Chemical burn






Cellulitis
Favored Dx
Patient history and examination indicate a partial-thickness thermal scald burn.
Overview
Burn injuries can occur after exposure to flames, heat, chemicals, or electricity. Several vital functions of the skin can be compromised after injury, including its protective barrier, fluid homeostasis, thermoregulation , immunologic, and neurosensory functions.
The American Burn Association estimates that almost half a million people receive medical treatment for burns each year in the USA [
1
]. Male burn victims outnumber females in all age groups except patients above the age of 80, in which women show a slight predominance. The age group with the highest prevalence of burns is between 20 and 60, although children below the age of 16 account for a substantial proportion at 30 % [
2
]. The majority of children who experience burn injuries are under 3 years of age [
3
]. Almost three quarters of burns affect less than 10 % of total body surface area (TBSA) . The most common causes of burn injury are fire and scalding accidents, accounting for 80 % of cases [
2
]. Scald burns (which are caused by heated liquids or steam) account for the majority of pediatric burn injuries [
3
,
4
]. Most of these data come from hospitalization studies, thus representing more severe burn injuries. However, of the over one million burn injuries that occur in the USA annually, the majority are minor burns and can be managed on an outpatient basis.
Burns have a wide range of severity, with the most severe associated with an increased risk in morbidity and mortality. Populations especially vulnerable to infections, delayed healing, and increased morbidity from burns include diabetics and immunocompromised populations. Children with burn wounds should be evaluated for the possibility of child abuse.
Presentation
Burns can be grouped into three categories depending on severity. Superficial or epidermal (first degree) burns involve only the epidermis. Partial thickness (second degree) burns involve the epidermis and part of the dermis. The degree of damage to the dermis further classifies burns as superficial partial thickness, or deep partial thickness where blood vessels, nerves, and hair follicles may be involved. Full thickness (third degree) burns involve the entirety of the epidermis and dermis, and may include involvement of bones and muscles. The term fourth degree is sometimes used to describe the most severe burns that extend into bone, muscles, and joints.