, Corinna Eleni Psomadakis2 and Bobby Buka3

(1)
Department of Family Medicine, Mount Sinai School of Medicine Attending Mount Sinai Doctors/Beth Israel Medical Group-Williamsburg, Brooklyn, NY, USA
(2)
School of Medicine Imperial College London, London, UK
(3)
Department of Dermatology, Mount Sinai School of Medicine, New York, NY, USA
Keywords
Seborrheic keratosis
Barnacles of age
Benign
Epidermal tumor
Sun exposure
Mole
Cryosurgery
Electrodesiccation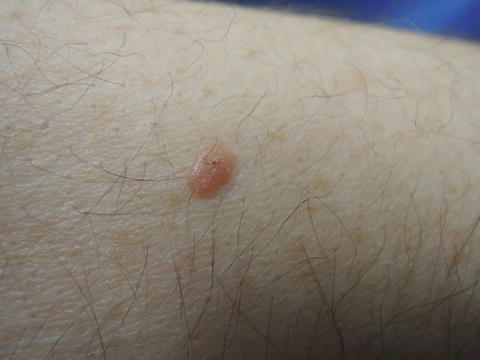 Fig. 26.1
Stuck-on pink papule with hyperkeratotic surface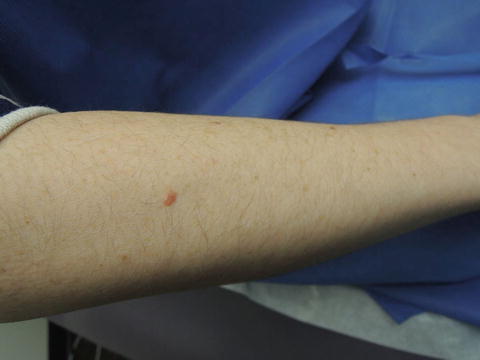 Fig. 26.2
Roughened papule 0.8 cm—these lesions are more commonly brown in color
Primary Care Visit Report
A 39-year-old female with past medical history of migraines presented with a new mole on her right upper arm that "just popped up," per the patient. She noticed it about 6 months prior, and noted that it had changed in size since it appeared and bled occasionally.
Vitals were normal. On exam, there was a 4 mm × 4 mm erythematous, soft, fleshy papule on the patient's right lateral forearm.
Because this was a new mole that was changing in size, the patient was referred to dermatology for further evaluation. The dermatologist biopsied the lesion and found it was seborrheic keratosis.
Discussion from Dermatology Clinic
Differential Dx





Seborrheic keratosis






Melanoma






Pigmented basal cell carcinoma






Verruca plana






Common acquired nevus






Acrochordon (skin tag)
Favored Dx
Malignant skin transformations should always be part of a differential that includes rapid growth and recent changes to a lesion. On clinical examination, this lesion appears to be a benign seborrheic keratosis.
Overview
Seborrheic keratoses (SK) are very common, benign epidermal tumors . They can occur at any age, though they more commonly occur in people above the age of 50, and tend to increase in number with age. There is no gender preference [
1
,
2
]. Inheritance may play a role in their development, as they tend to run in families in an autosomal dominant fashion. Sun exposure has also been associated with SKs [
2
,
3
]. Malignant transformations of SKs are extremely rare; however, there have been some cases of melanoma and basal cell carcinoma arising out of SK lesions [
3
–
6
].