, Corinna Eleni Psomadakis2 and Bobby Buka3

(1)
Department of Family Medicine, Mount Sinai School of Medicine Attending Mount Sinai Doctors/Beth Israel Medical Group-Williamsburg, Brooklyn, NY, USA
(2)
School of Medicine Imperial College London, London, UK
(3)
Department of Dermatology, Mount Sinai School of Medicine, New York, NY, USA
Keywords
Discoid eczema
Nummular eczema
Discoid dermatitis
Annular
Ring
Contact allergy
Topical corticosteroids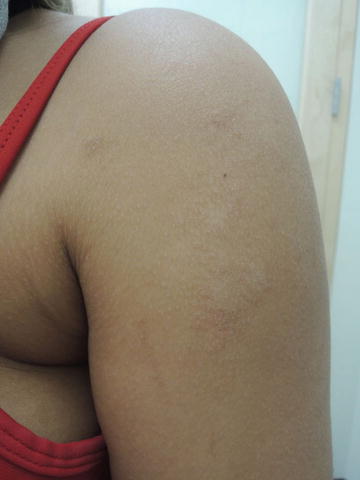 Fig. 27.1
Often misdiagnosed as ringworm, this circular plaque is less pruritic and has scale throughout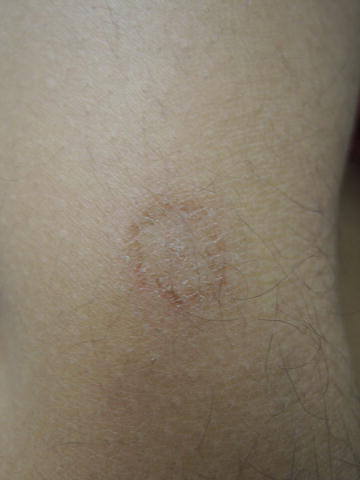 Fig. 27.2
This coin-shaped lesion has a chapped appearance and is exceedingly common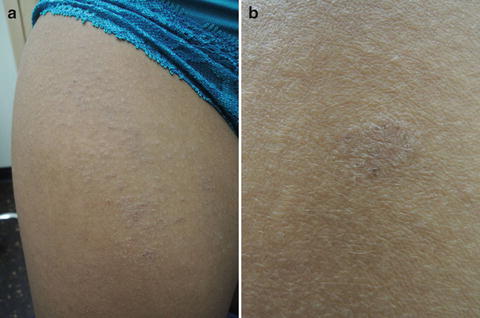 Fig. 27.3
(
a
and
b
) Follicular prominence is the first sign of xerosis , a clue to your diagnosis
Primary Care Visit Report
A 23-year-old female with past medical history of recurrent vaginal yeast infections, treated with weekly fluconazole 100 mg, presented with a pruritic rash. The rash started 2 weeks prior to this visit, with lesions on her right cheek (mostly resolved at visit), two round lesions on her right upper arm, a single lesion on her left shoulder area, and a rash on her upper thighs and abdomen. All lesions were pruritic and the patient reported a "burning, irritated" feeling on her legs. She had started using Tom's soap for the first time about 1 month prior. Otherwise, no new skin products were reported.
Vitals were normal. On exam, there was a 5 mm × 5 mm round papular lesion with hyperpigmented border on her right upper arm, and a 1 cm × 1 cm scaly dry plaque with central clearing on her left upper arm. Her abdomen and bilateral thighs featured rough, papular, scaly dry plaques.
The considered differential was eczema versus a fungal infection. The patient was initially treated for eczema, and was prescribed topical desonide 0.05 % cream (Class VI) twice daily for 14 days. The patient was advised to discontinue use if the rash was not resolving with desonide, and instead try clotrimazole 1 % cream twice daily.
Discussion from Dermatology Clinic
Differential Dx





Nummular eczema






Contact dermatitis (allergic or irritant)






Tinea corporis






Psoriasis






Majocchi's granuloma
Premium Wordpress Themes by UFO Themes
WordPress theme by UFO themes