, Corinna Eleni Psomadakis2 and Bobby Buka3

(1)
Department of Family Medicine, Mount Sinai School of Medicine Attending Mount Sinai Doctors/Beth Israel Medical Group-Williamsburg, Brooklyn, NY, USA
(2)
School of Medicine Imperial College London, London, UK
(3)
Department of Dermatology, Mount Sinai School of Medicine, New York, NY, USA
Keywords
Dermatofibroma
Benign
Growth
Lesion
Histiocytoma
Fibrous tissue
Cryosurgery
Excision
Leg
Lower limb
Bump
Lump
Nodule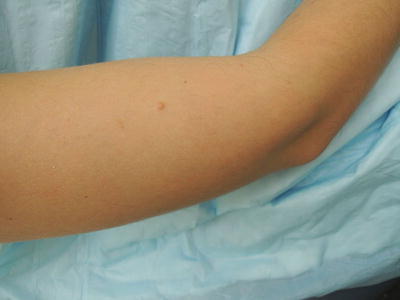 Fig. 50.1
Occasionally there is precursor nominal trauma (like a bug bite) described, but usually these dermal lesions appear spontaneously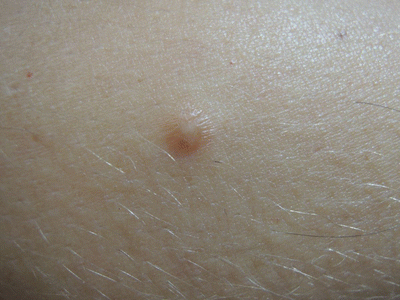 Fig. 50.2
Button-like firm dermal papule, asymptomatic
Primary Care Visit Report
A 26-year-old female smoker presented with a "lump " on her right upper arm. She said it had been there for a few years and was unchanged until recently, when she noticed a "white thing on it." The patient wanted to have it removed.
Vitals were normal. On exam, there was a non-tender 4 mm hyperpigmented papule on her right upper arm with central white dome.
Unsure what this was, I referred the patient to dermatology. However, the patient did not want to pay the higher co-pay to go to a specialist and opted to leave the lesion alone.
Discussion from Dermatology Clinic
Differential Dx





Dermatofibroma






Prurigo nodularis






Keloid






Epidermal cyst






Foreign body granuloma






Common nevus






Schwannoma
Favored Dx
The lesion has been present for a few years without change, which suggests it is benign . The growth is small, firm, and located on an extremity, all of which are features of dermatofibromas.
Overview
Dermatofibromas, also called histiocytomas , are benign dermal nodules that usually appear in the extremities. Dermatofibroma is a common skin lesion, accounting for 3 % of skin lesion specimens received by one laboratory [
1
]. Most cases occur in the third through fifth decades of life and show female predominance [
2
]. It represents a benign process with no malignant potential. Dermatofibroma may be associated with history of local trauma. Multiple eruptive dermatofibromas have been noted in patients with systemic lupus erythematosus and HIV [
3
]. It is unknown whether dermatofibromas are a true neoplasm versus an inflammatory response, and there are several histologic variants of the lesions [
1
,
2
].