, Corinna Eleni Psomadakis2 and Bobby Buka3

(1)
Department of Family Medicine, Mount Sinai School of Medicine Attending Mount Sinai Doctors/Beth Israel Medical Group-Williamsburg, Brooklyn, NY, USA
(2)
School of Medicine Imperial College London, London, UK
(3)
Department of Dermatology, Mount Sinai School of Medicine, New York, NY, USA
Keywords
Yeast
Candida albicans
Interdigital candidiasis
Erosio interdigitalis blastomycetica
Finger webbing
Pruritus
Antifungal
Occupational dermatitis
Maceration
Burow's solution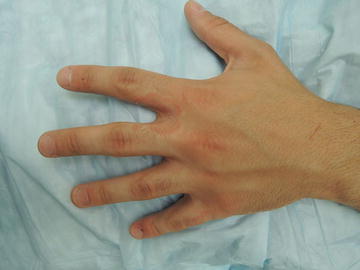 Fig. 11.1
Arcuate, erythematous scaly plaque between second and third digits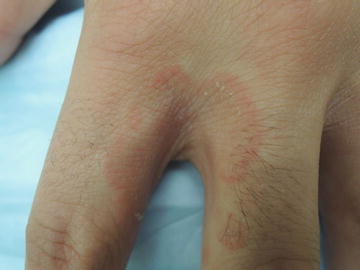 Fig. 11.2
Note the curvilinear edge of this expanding plaque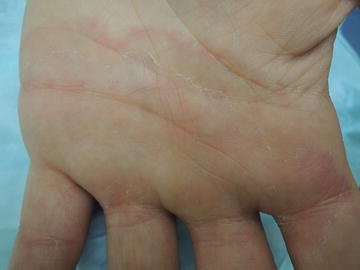 Fig. 11.3
Lesions extend to palmar aspect as well
Primary Care Visit Report
A 17-year-old male with no past medical history presented with a rash on his left hand that he had for a month prior to this visit. He had been applying Vaseline to it, which seemed to help. It was occasionally itchy and he felt it had started to affect the fingernail on his fourth finger. The rash was only on his hand and nowhere else on his body.
Vitals were normal. On exam, the distal portion of his left palm as well as the finger webbings of his left hand had an erythematous macular rash . The dorsal aspect of his left hand had a round erythematous , slightly scaly macular rash extending from the finger webbing between the second and third fingers to the proximal aspects of both fingers. This rash had a slightly darker erythematous border with slight central clearing.
This was treated as a fungal infection with econazole nitrate cream 1 % twice a day for 14 days.
The patient returned 4 months later for his annual physical exam and reported that the rash had improved with 14 days of antifungal cream. However, once he stopped using the cream, the rash recurred.
On exam at this return visit, the dorsum of his left hand had an erythematous scaly macular rash over the first, second, and third metacarpophalangeal joints, as well as in the finger webbings adjacent to those areas. The rash had an erythematous border with central clearing.
The patient was advised to restart the econazole nitrate cream 1 % twice daily but this time to use for a longer duration of 14–28 days.
Discussion from Dermatology Clinic
Differential Dx





Interdigital candidiasis (AKA erosio interdigitalis blastomycetica )






Tinea manuum






Pompholyx






Irritant dermatitis






Allergic contact dermatitis






Psoriasis
Favored Dx
Examination findings are consistent with interdigital candidiasis, a yeast infection of the finger webbings .
Overview
Interdigital candidiasis, also referred to as erosio interdigitalis blastomycetica (unrelated to
blastomyces dermatitidis
, the causal agent of a more severe, systemic fungal infection called blastomycosis ), is a superficial fungal infection caused by any of the over 200 species in the
Candida
genus of yeasts, most frequently
C.
albicans
. The interdigital variant, affecting the web spaces of fingers and toes, is the most common form of candidiasis [
1
].