Fig. 12.1
Endoanal ultrasonographic picture showing the course of the fistula with respect to the sphincter musculature
Endoanal ultrasound (EAUS), also known as anal endosonography, has been shown to be a cheap and accurate diagnostic modality that enables preoperative visualisation of the fistula tract (Nevler et al.
2013
). One of its main advantages is the ability to delineate the anatomy of the fistula tract distinctly and to correlate its path with respect to the integrity and relation of the internal and external sphincters. The use of hydrogen peroxide coupled with the advent of 3-dimensional images also increase the accuracy of the test and help to better identify the location of the internal opening and determine the presence of any secondary fistula tracts (Kim and Park
2009
). When used properly, the radiological findings correspond closely with the surgical findings, and the images provide a blueprint to plan the optimal surgical intervention.
As in all sonographic modalities, the main disadvantage lies in its heavy dependence on the competency of the operator. In addition, EAUS has a limited focal range whereby pathology beyond the anal sphincters complex may not be as clearly visualised.
12.2.2

Magnetic Resonance Imaging

The superior ability to discern soft tissue planes has resulted in magnetic resonance imaging (MRI) being used in various specialties. With a reported concordance rate of over 90 % with operative findings, MRI has slowly become a recognised modality in the preoperative assessment of recurrent and complex anal fistulas (Holzer et al.

2000

). It is also able to evaluate the deeper surgical planes, underlying pathologies and complex characteristics of the anal fistulas more accurately than EAUS (Fig.

12.2

). The availability of the MRI, or the lack of it, and its significant cost are its main limitations.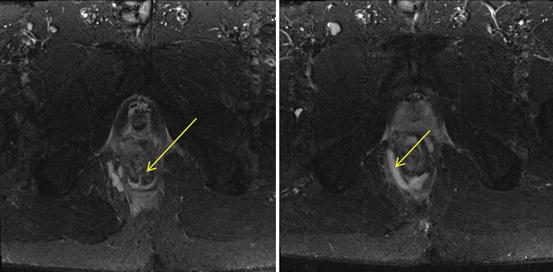 Fig. 12.2
MRI images of the pelvis. Image on the
left
shows an intersphincteric fistula tract at the 6 o'clock position (
arrowed
), and image on the
right
shows a right ischiorectal abscess (
arrowed
), which is communicating with the fistula tract
12.3

Surgical Management for Anal Fistula: A Journey Through Time and Innovation

The principles of surgical management in anal fistulas are the eradication of sepsis, prevention of recurrence and preservation of continence. While numerous evolving techniques have sprung up over the years in the hope of replacing lay-open fistulotomy as the standard of care in the management of all anal fistulas, none has succeeded thus far. We hereby evaluate the various techniques that have been advocated for anal fistula over the past years.
Get Clinical Tree app for offline access