CHAPTER 2

TRAINING IN ACUTE CARE SURGERY
Training in acute care surgery has been formalized in an advanced surgical training fellowship that is currently endorsed and sponsored by the American Association for the Surgery of Trauma (AAST).1,2 The AAST is a professional surgical society that was founded in 1938 and has been the academic home for trauma surgeons in North America. The curriculum for acute care surgery fellowships is outlined below (Table 2.1), as well as detailed on the AAST Web site (www.aast.org/Library/AcuteCareSurgery/Default.aspx).
TABLE 2.1
ACUTE CARE SURGERY CURRICULUM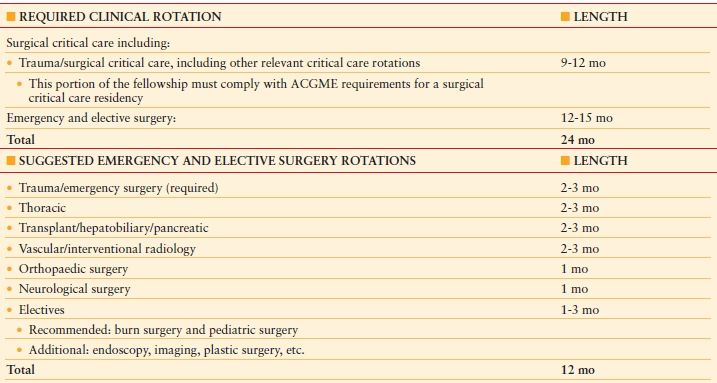 Notes to Curriculum Outline
It is a requirement that over the 2-y fellowship, trainees participate in acute care surgery call for no less than 12 mo. Fellows are required to take 52 night calls in trauma and emergency surgery during the 2-y fellowship.
1. Flexibility in the timing of these rotations and the structure of the 24-mo training should be utilized to optimize the training of the fellow.
2. Rational for out-of-system rotations for key portions of the training must be based on educational value to the fellow.
3. Acute care surgery fellowship sites must have RRC approval for surgical critical care residency.
4. Experience in elective surgery is an essential component of fellowship training.
5. An academic environment is mandatory, and fellows should be trained to teach others and conduct research in acute care surgery.
Fundamental to this training is an emphasis on the three main components of acute care surgery: trauma, surgical critical care, and emergency general surgery. Key structural components of the curriculum are that it is 2 years in length and includes within its content an Accreditation Council on Graduate Medical Education (ACGME)-approved surgical critical care residency, as well as advanced surgical training in trauma care and emergency general surgical care. Applicants must have finished an ACGME-approved general surgery residency. Throughout this chapter, the term "residency" means a formal training program approved by the Surgery Residency Review Committee (RRC) of the Accreditation Council for Graduate Medical Education. The term "fellowship" means a formal training program that is similar to ACGME-accredited residencies, but is not an ACGME-accredited program. Current examples of such "fellowships" include minimally invasive surgery, acute care surgery, transplantation, breast surgery, and others. Some fellowships are generally in newer or developing fields and are considering seeking formal ACGME accreditation in the future. Other fellowships (including some established ones) are less inclined to seek ACGME overnight due to the reimbursement restrictions on resident care mandated by federal funding sources and the increasingly stringent additional requirements (e.g., duty hour limitations).
The curriculum includes a dedicated minimum of 9 months of surgical critical care, as mandated by the ACGME for accredited surgical critical care residencies. In the majority of the programs, this results in having a 1-year surgical critical care fellowship, along with an additional year of clinical operative experience in trauma and emergency general surgery. Only a program with an ACGME-accredited surgical critical care residency can be eligible for AAST approval for an acute care surgery training program.
The remaining 12-15 months are focused on operative rotations in emergency and elective surgery, with the expectation that there will be at least 12 months of acute care surgical on-call experience, or a minimum of 52 nights of trauma and emergency general surgery call. The 12-15 months of operative rotations have as a foundation time spent on an active acute care surgical service. This is ideally supplemented by three specific rotations in thoracic, vascular, and hepatobiliary–pancreatic surgery, with the expectation that these rotations will provide supplemental and advanced exposure to surgical skills and patient care challenges that often are inadequate in core general surgery training. It is felt that these three specific areas of advanced specialty training are needed to fully prepare a surgeon for the clinical challenges of emergency trauma and nontrauma surgery.
While there is considerable flexibility allowed in these new training fellowships, it is suggested that there is time spent on trauma orthopedics and neurosurgical services, with additional elective time to be allocated to meet the needs of the trainee. The expectation is that trainees will be competent in the management of a wide spectrum of acute care surgical needs and have specific operative competency in the procedures listed in Table 2.2.
TABLE 2.2
OPERATIVE MANAGEMENT PRINCIPLES AND TECHNICAL PROCEDURE REQUIREMENTS OF ACUTE CARE SURGERY FELLOWSHIP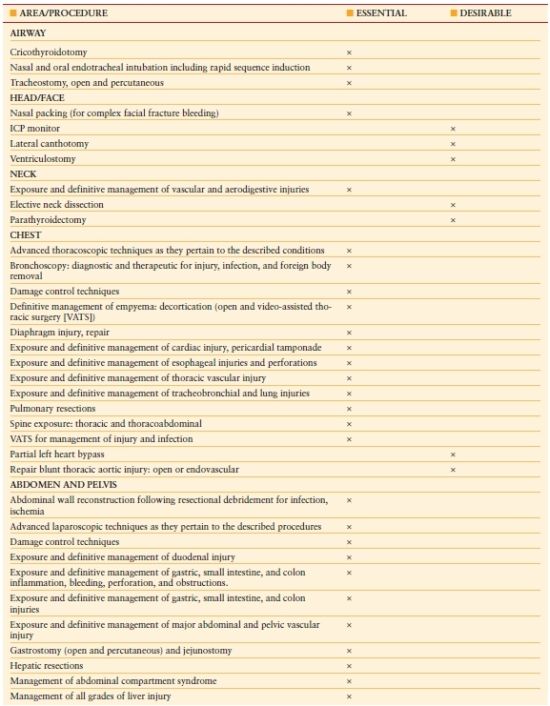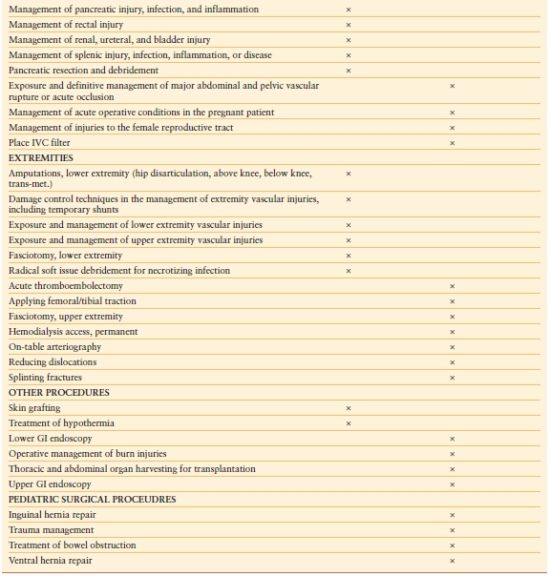 In summary, the clinical component of these fellowships includes the following key areas:


The program should supply the necessary volume and variety of trauma, critical care, and emergency general surgery to ensure adequate training of fellows.

Each fellow must have ample opportunity and responsibility for the care of patients with acute surgical problems, and the operative experience must be consistent with developing competency in technical skills and procedures required to provide acute surgical care.

Elective general surgery is an essential component of the training of acute care surgeons.

Emergency surgical call and trauma call are mandatory components of the training curriculum. Fellows will take a minimum of 52 trauma and emergency surgery night calls during the 2-year fellowship.

Elective operative experience in thoracic, vascular, and complex hepatobiliary and pancreatic procedures are strongly encouraged as a means of developing competency in the management of acute surgical emergencies in these anatomic regions.

Working knowledge of the diagnosis, management, and operative treatment of neurosurgical and orthopedic injuries is expected.

Experience with the use of interventional radiology techniques is encouraged.

Experience and competency with diagnostic upper and lower gastrointestinal (GI) endoscopy and bronchoscopy are encouraged.
As of early 2011, there were seven formally approved training sites, one pending approval, with another estimated 10-20 programs in various stages of considering submitting applications for approved training sites.