Marie Csete
Dalia Banks
Gerard Manecke
Kathryn Glas
Key Points

Brain death is declared when the clinical picture is consistent with irreversible cessation of all brain functions.

The mainstay of donor management is maintenance of euvolemia, oxygenation, perfusion, and normothermia, as well as communication with multiple surgical teams.
Donation after cardiac death organs now account for over 10% of organ transplants in the United States.

Living kidney and liver donors must be healthy and without significant cardiopulmonary, neurologic, or psychiatric disease, diabetes, obesity, or hypertension.

Immune suppression is associated with severe infections, increased risk of malignancy, and progressive vascular disease.

Renal transplant recipients are often anemic, with hyperdynamic cardiac indices.

For renal transplantation, the major anesthetic consideration is maintenance of renal blood flow. Typical hemodynamic goals during transplant are systolic pressure >90 mm Hg, mean systemic pressure >60 mm Hg, and central venous pressure >10 mm Hg.

Patients with end-stage liver disease (ESLD) have multiorgan dysfunction with secondary cardiac, pulmonary, and renal complications of ESLD.

Liver transplantation is traditionally described in three phases: dissection, anhepatic, and neohepatic, with reperfusion marking the neohepatic phase.

Intraoperative management of lung transplant patients should focus on fluid and ventilatory strategies designed to minimize acute lung injury and primary graft dysfunction.

Left ventricular assist devices are increasingly common in patients presenting for heart transplantation.

Nonischemic cardiomyopathy has replaced ischemic cardiomyopathy as the most common indication for heart transplantation.

For all transplant recipients, antibiotic, antiviral, antifungal, immunosuppression, and disease-specific drug regimens should be disrupted minimally in the perioperative period.
Related Matter
Left Liver Lobe Donation
Transplantation is the standard of care for many end-stage diseases. About 113,000 patients are on solid-organ transplant waiting lists in the United States. Organ donation has not kept pace with demand, resulting in many practice changes to increase the donor pool, including more use of living-related organ donation, donor organs once considered marginal (extended criteria donors [ECDs]), grafts from "donation after cardiac death" (DCD) donors, as well as paired kidney donations (kidney swaps). All of these changes impact anesthetic management of organ recipients.
The United Network of Organ Sharing (UNOS;
www.unos.org
) was created by the 1984 National Organ Transplant Act to manage the organ procurement and transplant network for efficient and equitable distribution of donated organs. The system for organ placement received a technology upgrade in 2006 with the launch of DonorNet, an electronic resource for matching and distribution of organs around the United States. Speed of placement is important, as brain-dead donors are unstable, and ECD grafts are particularly important to transplant with minimal cold ischemic times. In general, maximum cold ischemic times are 4 to 6 hours for heart or lung grafts, 12 to 24 hours for livers, and up to 72 hours for kidneys. The UNOS website data contain center- and region-specific transplant databases, regularly updated.
The Scientific Registry of Transplant Recipients (
www.ustransplant.org
) is a source of transplant data important to clinicians, patients, and researchers. US centers performed 27,527 transplants in 2009, and almost 200,000 Americans are living with transplanted organs. Data on death rates while on transplant waiting lists are sobering, pointing to the complexity of illness in these patients and the need for more organ donation. In 2008, the rate of death on the waiting list for hearts was 17%, for kidneys 6.3%, and for livers 11.4%. In 2010, in the United States (including Washington, D.C., and Puerto Rico), 28,663 transplants were performed: 16,899 kidneys, 350 pancreata, 828 kidneys/pancreata, 6,291 livers, 2,333 hearts, 1,770 lungs, 41 hearts/lungs, and 151 intestinal transplants. In major transplant centers, specialist anesthesiology teams participate in the preoperative assessment and optimization of patients for major organ transplant procedures. Directors of liver transplant anesthesiology teams are now required to complete transplant continuing medical education. Solid-organ transplantation is also a critical component of many anesthesia training programs.
Anesthetic Management of Organ Donors
Immunosuppressive Agents

Pharmacologic suppression of the immune response to allografts is associated with major side effects. Considerable variability in intestinal absorption, genetic and induced differences in metabolism of these drugs, changing dosage requirements with aging, and idiosyncratic complications all mandate individualization of immunosuppressive regimens. Immunosuppressed patients who are undertreated risk rejection; overimmunosuppression can be toxic, especially to the kidneys. All immunosuppression regimens carry major risks, such as infection, malignancy, and progressive vascular disease. Immunosuppression regimens differ considerably from center to center, and anesthesiologists must communicate with the transplant team to obtain the schedule and dose of immunosuppressive agents for each patient. It is particularly important to review drug regimens with transplant coordinators when posttransplant patients are scheduled for surgery because
the transplant team needs information about peak and trough drug levels that may not be accessible on the hospital record.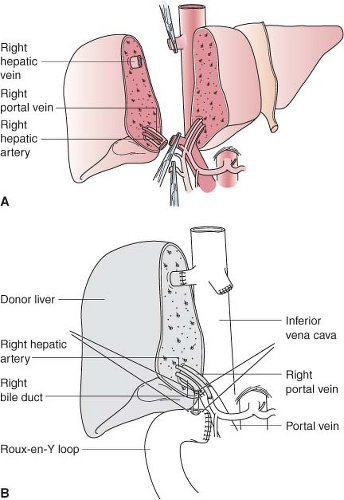 Figure 51-2. Right lobe (segments V to VIII) living donor transplantation.
A:
Donor operation.
B:
Recipient operation completed.
Immunosuppressed patients coming to the OR deserve special attention to sterile technique and maintenance of antibiotic, antifungal, and antiviral regimens during the perioperative period. Complications of chronic immunosuppression are summarized in
Table 51-4
.
Calcineurin Inhibitors
The modern transplant era began with the introduction of the calcineurin inhibitor (CNI) cyclosporine into clinical practice. CNIs are still a mainstay of immunosuppression for solid-organ transplant recipients. Tacrolimus (FK-506) is also widely used. Inhibition of calcineurin, among other effects, modifies NFAT (nuclear factor of activated T cells) and frees nuclear factor-κB to translocate to the nucleus, where it enhances transcription of T-cell interleukin-2 (IL-2). Via these signal transduction pathways, CNI inhibits T-lymphocyte activation, differentiation, and cytokine production.
59
Calcineurin is involved in diverse cellular processes, so its inhibition can cause many significant side effects. These include hypertension (often requiring therapy), hyperlipidemia, ischemic vascular disease (including in heart recipients), diabetes, and nephrotoxicity. Cyclosporine causes acute nephropathy, which is usually reversible with drug cessation. But chronic renal damage from cyclosporine is a more refractory problem. A variety of other drugs are used with CNI to reduce the amount of CNI required. Ischemic cardiac disease is the leading cause of death of kidney transplant recipients, in part because of underlying disease that preceded transplantation. But CNI can exacerbate risk factors for coronary artery disease. It is important to note that end-stage liver disease (ESLD) does not confer protection from coronary artery disease, and liver transplant patients are also at risk for progression of ischemic cardiac disease after transplantation. Neurologic side effects also complicate CNI therapy, including tacrolimus-induced polyneuropathy
60
and encephalopathy.
61
When immunosuppression is interrupted by surgery or when multiple potentially interacting drugs are used, tacrolimus trough levels should be reassessed.
Table 51-4. Complications of Chronic Immune Suppression
| System | Complication |
| --- | --- |
| Central nervous system | Lowered seizure threshold |
| Cardiovascular | Diabetes |
| | Hypertension |
| | Hyperlipidemia |
| | Atherosclerosis |
| Renal/electrolyte | Decreased glomerular filtration rate |
| | Hyperkalemia |
| | Hypomagnesemia |
| Hematologic/immune | Increased risk of infections |
| | Increased risk of malignancy |
| | Pancytopenia |
| Endocrine/other | Osteoporosis |
| | Poor wound healing |
Tacrolimus is metabolized by cytochrome P450 3A4 and causes its up-regulation. Cyclosporine may rarely prolong the action of pancuronium.
62
,
63
To switch from oral to intravenous dosing of cyclosporine, usually about one-third the oral dose is used. Usual doses of tacrolimus are 0.15 to 0.3 mg/kg/day given in two doses. To switch from oral to intravenous tacrolimus, a starting dose of about one-tenth the oral dose can be used.
Corticosteroids
Corticosteroids disrupt expression of many cytokines in T cells, antigen-presenting cells, and macrophages. These drugs are used both for maintenance immunosuppression and in pulse dosing for acute rejection. Especially for growing children, corticosteroid-sparing regimens are increasingly popular. The well-known side effects are hypertension, diabetes, hyperlipidemia, weight gain (including Cushingoid features), and gastrointestinal ulceration (see
Chapter 49
). Communication with the transplant service is important in determining timing and dose of steroid administration perioperatively in patients who are taking the drug chronically. Corticosteroids are generally withheld during liver transplantation in recipients with hepatitis C because of concern that they contribute to hepatitis C recurrence.
64
Nonetheless, a recent multicenter study showed little advantage to a steroid-free immunosuppression regimen in patients with hepatitis C followed for 2 years after their transplants.
65
Polyclonal and Monoclonal Antibodies
OKT3 antibody is directed against a component of the T-cell receptor complex and affects immunosuppression by blocking T-cell function. Acute administration of OKT3 in awake patients (especially first administration) may result in generalized weakness, fever, chills, and some hypotension. More severe hypotension, bronchospasm, and pulmonary edema have been reported. Formulations of OKT3 may require syringe filtering before administration.
Other Immunosuppressive Drugs
Corneal Transplantation
Corneas are the most common organs transplanted in the United States, with >40,000 transplants per year. Corneal transplants can be performed under local anesthesia (often with IV sedation) or general anesthesia. Recipients of cornea grafts are often elderly. A major anesthetic goal is maintaining low intraocular pressure (see
Chapter 48
– EYE). For particularly complex procedures, diuretics and intravenous fluid restriction may be warranted to prevent edema.
82
Patient positioning (head-up angle of the bed) on transfer from the OR should be directed by the surgeon. Rejection of corneal allografts is the most common cause of graft loss in the first year after transplantation.
Renal Transplantation
Preoperative Considerations
All solid-organ transplant patients are screened for tumors (mammography, Papanicolaou [Pap] test, colonoscopy, prostate-specific antigen) and infection (dental evaluation, viral serologies). Patients should have good control of their diabetes before transplantation and have an evaluation for psychiatric stability and social support. Severe heart, lung, or liver disease, most malignancies, and active or untreatable infections such as tuberculosis are exclusion criteria for renal transplantation.
Dialysis-dependent patients should be dialyzed before surgery. Cadaveric grafts can be safely transplanted after 24 hours of cold ischemia time, and potentially after 36 hours, allowing scheduling of preoperative dialysis. With preoperative dialysis, severe hyperkalemia during surgery is unusual.
Intraoperative Protocols
Incision is usually in the lower right abdomen to facilitate placement of the graft in the iliac fossa. The recipient iliac artery and vein are used for graft vascularization, followed by connection of the ureter to the recipient bladder. If the kidney is too large for the iliac fossa, it can be positioned in the retroperitoneal space. Iliac vessels may be used for anastomoses, or the aorta and inferior vena cava may be required.
Once the first anastomosis is started, diuresis is initiated (both mannitol and furosemide are often given). Heparin and verapamil should also be available in the OR. In some centers, anesthesiologists are asked to administer the first doses of immunosuppression. A kidney graft is defective in concentrating urine and reabsorbing sodium, so attention to electrolytes is important.
Liver Transplantation
Preoperative Considerations

Liver transplant programs vary considerably in the numbers of transplants performed, with only 20 centers reporting transplant volumes >100 patients in either 2009 or 2010. However, the number of transplants performed in a given center is only a small percentage of patients evaluated for liver transplantation. The anesthesiologist's input into the workup of liver transplant recipients is essential for decisions regarding candidacy and optimal preparation of patients for transplantation. Patients with ESLD have multiorgan dysfunction with cardiac, pulmonary, and renal compromise because of their liver disease (
Table 51-6
). Furthermore, 58% of patients transplanted in 2010 were age 50 to 64 years, and 11.3% were >65 years old. Common liver diagnoses leading to liver transplantation are shown in
Table 51-7
.
Adult liver transplant recipients are prioritized for transplantation by severity of illness, using the MELD (model for ESLD) score, which was originally developed to predict survival of patients with liver disease independent of liver transplantation
107
:

Pediatric patients are prioritized for transplant using the pediatric ESLD score (PELD):

Patients with acute liver failure are given priority for donor livers, then the patients with the highest MELD score and compatible blood group are next.
All liver transplant patients are screened for infectious diseases including human immunodeficiency virus (HIV), CMV, and Epstein-Barr virus. As for other solid-organ transplants, major infection and malignancy may exclude patients from consideration for transplantation. Several centers have had good experience transplanting patients who have HIV, and HIV-infected patients who require liver transplants should be referred to these centers.
108
Renal dysfunction is common in patients undergoing liver transplantation. Serum creatinine levels are not extremely useful in capturing renal function in patients with liver disease. Even a small increase in serum creatinine in these patients suggests significant renal dysfunction; hence, the reason that creatinine is emphasized in MELD scoring. Ongoing evaluation of MELD/PELD scores of
wait-listed patients is mandated, with the sickest patients requiring the most frequent laboratory studies to update scores.
Table 51-6. Multisystem Complications of End-stage Liver Disease
| System | Consequence |
| --- | --- |
| Central Nervous System | Fatigue |
| Encephalopathy (confusion to coma) | Blood–brain barrier disruption and intracranial hypertension (acute liver failure) |
| Pulmonary | |
| Respiratory alkalosis | Hypoxemia/hepatopulmonary syndrome |
| Pulmonary hypertension | Reduced right heart function |
| Cardiovascular | |
| Reduced systemic vascular resistance | Hyperdynamic circulation |
| Diastolic dysfunction | |
| Prolonged QT interval | |
| Blunted responses to inotropes | |
| Blunted responses to vasopressors | |
| Diabetes | |
| Gastrointestinal | |
| Gastrointestinal bleeding from varices | |
| Ascites | |
| Delayed gastric emptying | |
| Hematologic | |
| Decreased synthesis of clotting factors | Risk of massive surgical bleeding |
| Hypersplenism (pancytopenia) | |
| Impaired fibrinolytic mechanisms | |
| Renal | |
| Hepatorenal syndrome | Impaired renal excretion of drugs |
| Hyponatremia | |
| Endocrine | |
| Glucose intolerance | |
| Osteoporosis | Fracture susceptibility |
| Nutritional/metabolic | Muscle wasting and weakness |
| Other | |
| Poor skin integrity; pruritus | |
| Increased volume of distribution for drugs | |
| Decreased citrate metabolism | Calcium requirement with rapid fresh-frozen plasma infusion |
Difficult decisions about patient candidacy are common in evaluating liver transplant candidates. Several are discussed here to highlight the need for regular involvement of a transplant anesthesiologist in the candidacy evaluation process. Patients with ESLD generally have very low SVR, high cardiac index, and increased mixed venous oxygen saturation. Liver disease is not protective against coronary artery disease. Most patients are screened for cardiac disease using dobutamine stress echocardiography or myocardial stress scintigraphy, although the effectiveness of diagnosing coronary artery disease in these patients is not well established.
109
Patients with evidence of significant coronary lesions usually require cardiac catheterization to identify stenoses amenable to angioplasty preoperatively. These studies can be done safely even in patients with significant renal dysfunction.
110
Patients with severe coronary artery disease are generally not candidates for liver transplantation. Functional assessment of patients in addition to laboratory and imaging studies is important, and one study found that a distance of <250 m on a 6-minute walk test is an independent predictor of death on the transplant waiting list.
111
A recent, small retrospective studies suggests that troponin I levels >0.07 ng/mL may predict liver transplant patients at risk for cardiovascular complications.
112
Significant aortic stenosis also presents a difficult dilemma pretransplant. Because cardiac surgery is considered risky in a patient with ESLD, patients with aortic stenosis can be treated with valvuloplasty before liver transplantation. Then, after the liver graft is stable, aortic valve replacement can be considered. Similarly, patients with hypertrophic obstructive cardiomyopathy (HOCM) and left ventricular outflow tract obstruction can be treated with alcohol ablation of the septum before surgery to improve cardiac function during transplantation.
113
These HOCM patients can benefit particularly from TEE monitoring because PA capillary wedge pressure does not accurately reflect left ventricular (LV) volume in this population. Patients with patent foramen ovales may be at risk for intraoperative stroke, and some centers work with cardiologists to close larger shunts noninvasively before surgery.
Table 51-7. Diagnoses Leading to Liver Transplantation in Adults




Pathology


Diagnoses



Hepatocellular disease


Hepatitis C





Laennec cirrhosis (alcoholic)





Combined HCV/Laennec cirrhosis





Autoimmune hepatitis





Cryptogenic (idiopathic) cirrhosis





Hepatitis B





Small hepatocellular carcinoma (usually with other hepatocellular diseases)





Nonalcoholic steatohepatitis



Cholestatic disease


Primary biliary cirrhosis





Primary sclerosing cholangitis



Acute liver failure


Viral (unknown)





Acute hepatitis viruses (A, B, C)





Drug-induced liver failure





Wilson disease



HCV, hepatitis C virus.
Portopulmonary hypertension (PPH) patients coming to transplant are particularly challenging. Diagnosis of PPH is made in the (a) setting of liver disease (b) mean positive airway pressure ≥25 mm Hg, pulmonary vascular resistance (PVR) >240 dyne/s/cm
5
, and PA occlusion pressure ≤12 mm Hg.
114
Echocardiography is also used to screen patients for portopulmonary hypertension and intracardiac shunts. Systolic PA pressure estimates are made by capturing the maximum velocity of regurgitant flow across the tricuspid valve, and this velocity is used in the Bernoulli equation for the pressure gradient between the right ventricle and the right atrium (ΔP = 4V
4
). If moderate to severe pulmonary hypertension (estimated systolic PA pressure >50 mm Hg) is suggested, right heart catheterization is needed for direct pressure measurements. Multiple case reports and small retrospective reviews demonstrate that patients with portopulmonary hypertension are at substantial risk of perioperative death. There is general agreement that a mean PA pressure >50 mm Hg is an absolute contraindication to liver transplantation. Patients with PA pressures between 35 and 50 mm Hg and pulmonary vascular resistance >250 dyne/s/cm
−5
are also likely at increased risk. Efforts to lower PA pressure before transplantation pay off and considerably reduce the risk of transplantation.
115
Epoprostenol is the usual first-line therapy for portopulmonary hypertension and is effective in lowering PA pressures significantly in many patients, but it requires home IV delivery. Inhaled iloprost has been used in Europe for PPH patients with good results.
116
Sildenafil is also useful for treatment of portopulmonary hypertension
117
and can be given via nasogastric tube during surgery. Controlling PA pressures is critical in patients with the most severe PPH, and a few patients have been successfully managed with the mixed endothelin antagonist bosentan
118
or the selective endothelin-A receptor antagonist ambrisentan (Cartin-Ceba) or imatinib.
119
Right heart dysfunction that does not reverse after treatment of primary pulmonary hypertension is considered a contraindication to liver transplantation.
120
Inhaled nitric oxide is extremely useful for managing PA pressures during liver transplantation.