CONTENTS
Central Vascular Access Devices
Peripherally Inserted Central Catheters
Catheter-Related Bloodstream Infection
INTRODUCTION
Vascular access for parenteral nutrition support at home is a challenging and complex facet of the overall therapy. Diligent maintenance and care of the access site and device by the patient or home caregiver is vital in reducing catheter complications, extending device life, reducing hospitalizations, and improving quality of life.
VASCULAR ACCESS
Home parenteral nutrition (HPN) formulations are usually hypertonic in order to provide the nutrients and electrolytes the patient needs. The large vessels of the central venous system have the rapid blood flow necessary to dilute the HPN solution and prevent venous damage [1]. Central venous access refers to a device whose distal tip terminates at the junction of the superior vena cava (SVC) and the right atrium or the inferior vena cava above the level of the diaphragm [2].
Figure 10.1 shows the sites used for central venous catheter (CVC) placement. The most common insertion sites are the subclavian and internal jugular into the SVC. Other sites that may be cannulated in patients with limited venous access are the femoral vein or translumbar vessels leading into the inferior vena cava. Central venous access can also be achieved by venipuncture of the basilic and cephalic peripheral veins in the arm and the CVC is advanced to the junction of the SVC and the right atrium.
CVCs appropriate for HPN infusion include the peripherally inserted central catheter (PICC), tunneled catheter, and implanted port. Each device has specific characteristics and benefits tailored to meet the patient's individual needs. Pediatric patients use the same types of devices as adults. It is recommended that placement be reconfirmed for pediatric CVCs on a yearly basis due to growth that could change the position of the catheter tip [3].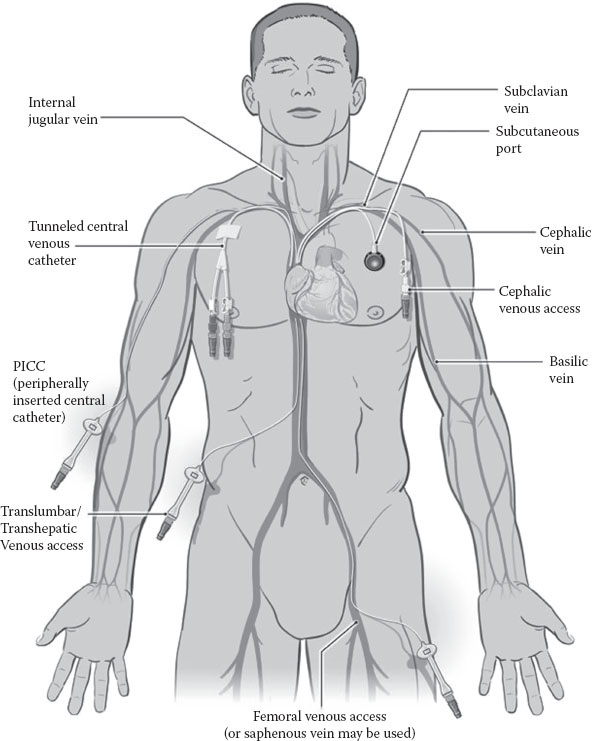 Prior to CVC insertion, careful patient assessment by the clinical insertion team helps to ensure successful placement. In addition, discussion with the patient and caregiver should include age, ability to care for self, body image, length of therapy, lifestyle characteristics, and caregiver availability. Dialogue between the patient, caregivers, and clinicians will ensure the patient receives the device most suited to their lifestyle.
CVC insertion may be performed at the bedside, in the radiology department, or in the operating room. Local anesthetic with intravenous sedation or general anesthesia may be given depending upon the individual patient needs. CVCs are inserted by a variety of clinicians with expertise in the field. These include specially trained registered nurses, nurse practitioners, physician's assistants, and physicians.
DEVICE FEATURES
DESIGNS
Tunneled catheters and PICCs and are available as single, double, or triple lumen. Implanted ports are single or double lumen. Multiple lumens provide access for more than one infusion, but may have a higher incidence of infection due to increased manipulations at the hub. A single lumen catheter is the preferred option for patients infusing HPN only [4]. Catheter lumens are either open-ended or valved at the distal tip. An open-ended catheter requires clamping to prevent air embolism and heparin flush to prevent clotting at the tip. Valved catheters have a pressure slit at the distal tip which opens with flush, infusion, or aspiration, but remains closed when not in use. The valve helps to prevent air embolism, blood reflux, and clotting, and it does not require heparin flush.
MATERIALS
The implanted port reservoir is either magnetic resonance imaging (MRI)-compatible plastic or titanium with a silicone septum. Silicone and polyurethane polymers are used for port catheters, PICCs, and tunneled catheters. Both products have superior compatibility with body tissue and fluids. The polyurethane is stiffer to provide easier insertion, but softens once it is within the body. Silicone is a very soft flexible material, which, although may be more challenging to insert, is more comfortable for long-term wear and more compatible with infusates and antiseptics. Polyurethane may crack with exposure to antiseptics and certain medications. Valved catheters are silicone. Although appropriate for use with HPN, polyurethane was primarily developed to administer high-flow-rate power injection therapies and is therefore a highly durable catheter material compared to silicone, which may tear or develop pinholes over time [5].
MEASUREMENTS
A catheter's French (Fr) size describes the circumference of the outer diameter in millimeters. The internal lumen will vary depending upon catheter design and material. Polyurethane catheters have narrower walls, so a 5 Fr polyurethane catheter has a larger internal volume than a 5 Fr silicone catheter. All types of catheters come in various lengths to accommodate different heights and weights. Silicone catheters may be trimmed to fit the anatomy of the patient, but valved and polyurethane length cannot be adjusted. French size and lumen volume may be imprinted on the hub of PICCs and tunneled catheters. The patient should receive a wallet-sized ID card, which contains important catheter information and is helpful in determining measurements.
Pressure per square inch (PSI) is important to understand in the care of CVCs. Excessive PSI can cause catheter rupture. Silicone catheters are very soft and can only withstand about 25 PSI compared to polyurethane at 300 PSI.
CENTRAL VASCULAR ACCESS DEVICES
PERIPHERALLY INSERTED CENTRAL CATHETERS
A PICC is inserted into the peripheral cephalic or basilic vein near the antecubital fossa and advanced into the central venous system to the distal SVC. Traditionally, PICCs were indicated for therapies lasting 6 months or less, but have been reported to remain in place for months to years without complications [6]. Figure 10.1 shows placement of a PICC. It is usually anchored in place on the skin at the insertion site using a stabilization device rather than tape or sutures. These devices reduce catheter movement at the site and within the vessel and help to prevent dislodgement [2]. PICC site care is generally provided by weekly home health nursing visits to closely observe the site and maintain the stabilization device.
TUNNELED CATHETERS
The tunneled catheter is inserted into the vessel through a small incision or cut down and threaded into desired distal SVC tip position. Figure 10.1 shows tunneled catheter placement. A subcutaneous tunnel is created with an exit site on the chest, abdomen, or rarely, the thigh. A Dacron cuff is placed above the exit site within the subcutaneous tissue of the tunnel. This cuff provides catheter stability, as well as a barrier against bacteria migrating from the exit site into the central venous system. Additional anchoring is provided with external sutures at the exit site. The subcutaneous tissue adheres to the Dacron cuff in about 10–14 days and then sutures at the exit site can be removed. Many HPN patients and caregivers are taught to perform their own site care and in some cases a dressing is not required at the exit site once it is well healed [4
Full access? Get Clinical Tree