Fig. 39.1
Epidural electrode implantation scar at midline thoracolumbar junction. The superior edge of the wound is dehisced with thick purulent drainage. A deep pocket of pus was identified on closer inspection, and the contaminated electrode could be visualized
Clearly, a wound infection has occurred, but you suspect an epidural infection given her worsening back pain and new neurologic findings. While in the office, you have her blood drawn for analysis and culture:





WBC 12.5 K/UL






Differential: segmented neutrophils 81%, lymphocytes 14%, basophils 2%, and eosinophils 3%






Hemoglobin 13.4 g/dL and platelets 318 K/UL






Hemoglobin A1C (glycohemoglobin) 7.7%






Erythrocyte sedimentation rate (ESR) 44 mm/h






C-reactive protein (CRP) 108 mg/L
The MRI shows an enhancing fluid collection in the posterior epidural space at the T11–T12 level. See Figs.
39.2
,
39.3
,
39.4
, and
39.5
for examples of epidural abscesses on MRI. Neurosurgery is consulted, and they agree that the abscess necessitates surgical drainage. Culture samples of the abscess material return with abundant gram-positive cocci. Given the patient's risk factors for methicillin-resistant
Staphylococcus aureus
(MRSA), (recent surgery, works in an inpatient healthcare facility), vancomycin is initiated to treat the infection until antibiotic sensitivity testing is completed. The following day, she is afebrile, and she remains neurologically intact, and urinary retention symptoms improve. Blood cultures are found to be positive for MRSA with sensitivity to vancomycin. She is hospitalized for an additional 4 days during which her glucose level is stabilized and serial ESR and CRP continue to decrease. A PICC line is placed, and she is sent home for an additional 5-week course of vancomycin. Despite this nearly catastrophic complication, the patient requests that you reimplant the SCS again, as she had profound pain relief and improved function during her trial and immediately after the initial implant.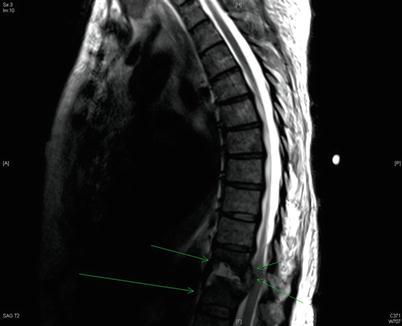 Fig. 39.2
T2 sagittal MRI image of a 78-year-old female with a large ventral epidural abscess at the T11–T12 level, surrounded by green arrows. This extensive infection extends into the vertebral body and intervertebral disc. The patient, in contrast to the patient presented in this case study, presented with profound neurologic deficits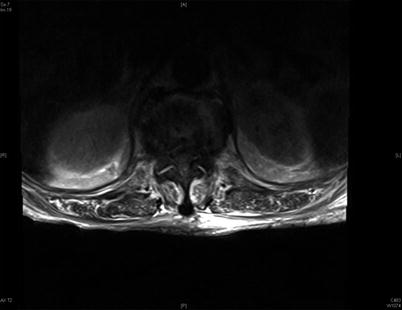 Fig. 39.3
T2 axial image of this same patient. The spinal canal is essentially obliterated with abscess at this level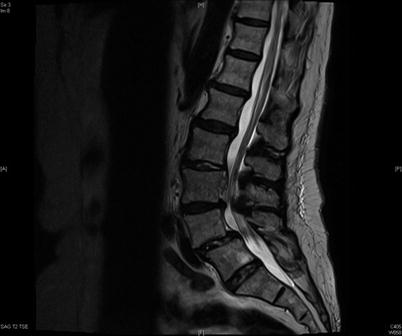 Fig. 39.4
A 69-year-old female with known L45 anterolisthesis presented with worsening back and right thigh pain following an LESI at L34. This T2 sagittal image confirms a ventral epidural fluid collection consistent with an epidural abscess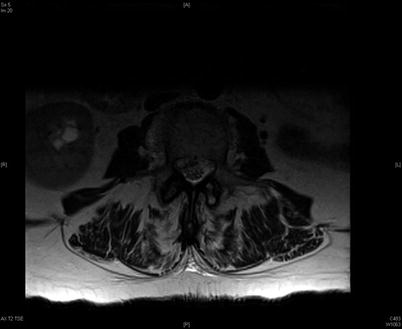 Fig. 39.5
T2 axial image at the L3 level in this same patient. A fluid collection in the ventral epidural space on the right is seen