Fig. 41.1
MRI sagittal view of active infiltrative metastatic process as evidenced by STIR (short tau inversion recovery) images. STIR is an MRI image that causes loss of fat signal (bone marrow) from the relaxation properties of fat protons. STIR imaging is the most sensitive modality for visualization of edema and thus of acute fractures. MRI axial view in T2-weighted images shows invasive of the infiltrative metastatic process in the left pedicle. Images from personal library
Patient is scheduled for kyphoplasty. During procedure, after placement of the cannulas, the balloons are inflated in the targeted position.
Upon cement injection, it is clear that the posterior and superior walls are compromised, likely by the infiltrative metastatic process. Cement of a more paste-like consistency is deposited carefully to limit leak of the injectate toward the L3–L4 intervertebral disc or the epidural space. Posterior leak of cement in the epidural, although minimal, is noted. After the procedure, the patient's back pain is resolved, but radicular pain increases with slight, new right quadriceps weakness 4+/5. A second radiographic image performed in the recovery room confirms tracking of the cement toward the posterior vertebral wall and shows only minimal epidural leak (Figs.
41.2
and
41.3
).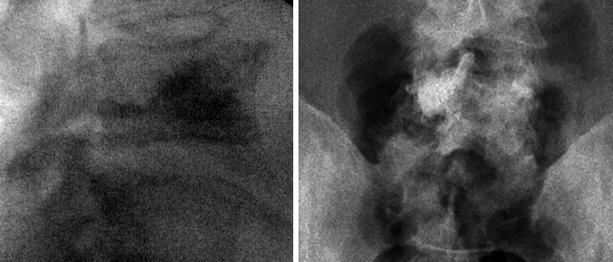 Fig. 41.2
Intraoperative fluoroscopy, lateral view, showing back track of cement toward the posterior elements; portable anteroposterior image does not clearly show cement leak. Images from personal library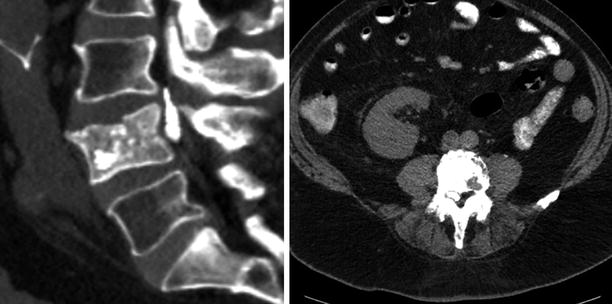 Fig. 41.3
Sagittal CT scan showing cement extravasation in the epidural space; after initial radiculitis, patient became asymptomatic after conservative treatment. In the axial view, the cement is seen toward the right L4 nerve root. Images from personal library
The patient is admitted for observation. His pain and weakness improve with an IV steroid taper, and a repeat MRI shows the right-sided cement leak that, together with underlying degenerative changes, contributes to the severity of right L4 foraminal stenosis. After a neurosurgery consultation, the patient is not considered a surgical candidate. The patient is discharged home, pain-free with a minor burning sensation in the right L4 distribution, and full motor strength. He is instructed to enroll in outpatient physical therapy. Following an aggressive physical therapy session, the patient complains of severe positional headache and severe back pain. When he returns to the hospital 2 days later, a CT of the lumbar spine with contrast is performed. It confirms a cerebrospinal fluid (CSF) leak and fluid accumulation around the L4 vertebra, likely from dural proximity to the hardened cement during aggressive physical therapy. CT also confirms end plate depression of the vertebrae adjacent to the kyphoplasty-treated L4, likely from cement leak in the intervertebral disc. The patient's headache responds well to a subsequent epidural blood patch, and his back pain improves with a conservative regimen and a back brace. He is able to enroll in a chemotherapy trial given his improved functional status after the interventions.
41.3

Cement Extravasation

Despite advancements in vertebral augmentation techniques, the procedures are not risk-free. Rates of cement extravasation in kyphoplasty may be higher than originally postulated. Many case reports of significant spinal cord injury and nerve damage have been linked to vertebroplasty; recently, several reports document injury with kyphoplasty as well. In a study that reviewed 100 radiographs of consecutive balloon kyphoplasties, the overall cement leakage rate was 31%, with most leakages being anterior and superior [

15

]. Only 2% were posterior, and most leakages were below 3 mm. Of the distribution of leakages reported from kyphoplasty, 48% were paraspinal, 38% intradiscal, 11% epidural, 1.5% pulmonary, and 1.5% foraminal [

16

]. Epidural cement leakage has had the worst neurological outcomes [

17

]. Paraspinal and intradiscal leakages have been less harmful, although some describe intradiscal leakage as one of the most significant predictors of adjacent vertebral fracture [

18

] (Fig.

41.4

).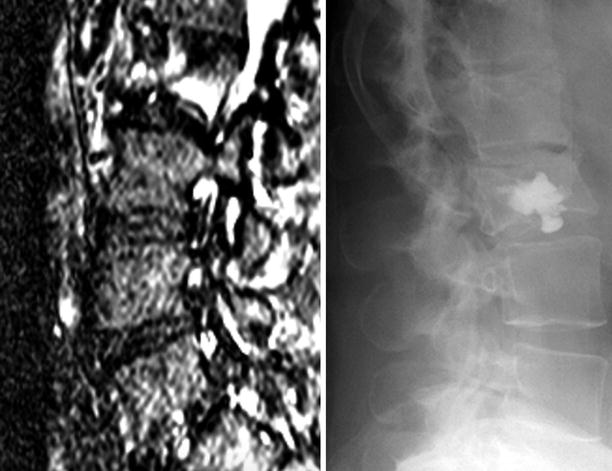 Fig. 41.4
MRI STIR images showing a fracture line over the L2 vertebral body; post-kyphoplasty portable fluoroscopic image showing escape of the cement through the fractured vertebral end plate into the inferior vertebral disc. Images from personal library
After performing kyphoplasty, the proceduralist must ask the patient about any new symptoms postoperatively. With an epidural cement leak, the patient may experience improvement in back pain but complain of new-onset radicular pain in the lower extremities, in addition to weakness and numbness. Patients may not be able to ambulate and have a positive straight leg raise. There have been reports of epidural cement leakage after pedicle breakage that causes neurological damage after kyphoplasty [
2
].
Monitoring cement leakages can be difficult, especially since fluoroscopy under a C-arm is the only practical method of imaging during the procedure. Patients are often under deep sedation for the procedure, making intraoperative neurological assessment difficult. Some believe that it is difficult to confirm a cement leak on simple radiogram, and oftentimes a leak can be observed only in a lateral and not anteroposterior view [
2
]. Furthermore, leakage through the pedicle wall can be difficult to assess, and some report that oblique images would be helpful for prompt detection of leakages after pedicle wall perforation [
15
]. For these reasons, urgent CT scan post-procedure is recommended if neurological symptoms occur [
2
]. In a study of 76 vertebrae in 49 patients who underwent vertebroplasty for osteoporotic VCF, more leaks were identified on CT scans than on radiographs by a factor of 1.5 [
19
].
Cement extravasation into the paravertebral veins may lead to pulmonary embolism or cardiovascular distress [
16
]. Despite the lower incidence of cement leak in kyphoplasty than in vertebroplasty, there was no correlation between cement embolism to the lungs and the type of procedure performed when post-procedure radiographs in 64 patients were obtained to assess for the presence of pulmonary cement emboli [
20
]. All patients with pulmonary cement emboli remained asymptomatic. Occasionally, patients have mild dyspnea and rarely experience cardiopulmonary instability making surgical embolectomy necessary.
41.4

Prevention and Treatment

Preventing epidural cement leaks

begins with patient selection. Vertebral augmentation should be reserved for patients with intractable, debilitating pain that requires high-dose IV or oral opiates. Similarly, the procedure should be considered in patients for whom conservative management such as physical therapy, oral analgesics, bracing, and epidural steroid injections has failed.