The Anesthesia Workstation and Delivery Systems for Inhaled Anesthetics
Kevin T. Riutort
James B. Eisenkraft
Key Points

The most important (but often overlooked) item in the pre-use checkout of the anesthesia workstation is to have immediately available, a functioning self-inflating resuscitation bag and a full auxiliary tank of oxygen.

The low-pressure circuit (LPC) is the "vulnerable area" of the anesthesia workstation because it is most subject to breakage and leaks. The LPC is located downstream from all anesthesia machine safety features except the oxygen analyzer (or, in some cases, the ratio controller), and it is the portion of the machine where a leak is most likely to go unrecognized if an inappropriate LPC leak test is performed. Leaks in the LPC can cause delivery of a hypoxic or sub-anesthetic mixture, leading to patient hypoxic injury or awareness during anesthesia.

Because some GE Healthcare/Datex-Ohmeda anesthesia machines have a one-way check valve in the low-pressure circuit (LPC), a negative-pressure leak test is required to detect leaks in the LPC. A positive-pressure leak test will not detect leaks in the LPC of a machine with an outlet check valve.

Internal vaporizer leaks can only be detected with the vaporizer turned to the "on" position. In the "off" position the vaporizer is excluded from the low-pressure circuit.

Before administering an anesthetic, the circle breathing system must be checked for leaks and for correct flow. To test for leaks, the circle system is pressurized to 30 cm water pressure, and the circle system airway pressure gauge is observed (static test). To check for appropriate flow to rule out obstructions and faulty valves, the ventilator and a test lung (breathing bag) are used (dynamic test). In addition, the manual/bag circuit must be actuated by compressing the reservoir bag, in order to rule out obstructions to flow in the manual/bag mode.
Many new anesthesia workstation self-tests do not detect internal vaporizer leaks unless each vaporizer is individually turned on during repeated self-tests.

In the event of a gas pipeline crossover, two actions must be taken. The backup oxygen cylinder must be turned on (since the tank valve should always be turned off when not in use), and the wall/pipeline supply sources must be disconnected.
The oxygen failure cutoff valves (also known previously as "fail-safe" valves, "hypoxic guards," or "proportioning systems") help minimize the likelihood of delivery of a hypoxic gas mixture, but they are not foolproof. Delivery of a hypoxic mixture may still result from (1) the wrong supply gas, either in the cylinder or in the main pipeline; (2) a defective or broken safety device; (3) leaks downstream from the safety devices; (4) inert gas administration (for instance, helium may not be subject to the oxygen failure cutoff valve); and (5) dilution of the inspired oxygen concentration by high concentrations of inhaled anesthetics.

Because of desflurane's low boiling point (22.8°C) and high vapor pressure (669 mm Hg at 20°C), controlled vaporization of desflurane requires specially designed vaporizers, such as the GE Healthcare/Datex-Ohmeda Tec 6, the Dräger D-Vapor, and the GE Healthcare Aladin cassette vaporizing system.

Misfilling an empty variable bypass vaporizer with desflurane could theoretically be catastrophic, resulting in delivery of a hypoxic mixture and a massive overdose of inhaled desflurane anesthetic.

Inhaled anesthetics can interact with CO
2
absorbents and produce toxic compounds. During sevoflurane (only) anesthesia, compound A can be formed, particularly at low fresh gas flow rates. During desflurane>sevoflurane anesthesia, carbon monoxide can be produced, particularly with desiccated absorbents.

Desiccated strong base absorbents (particularly barium hydroxide lime, Baralyme) can react with sevoflurane, producing extremely high absorber temperatures and combustible decomposition products. These in combination with the oxygen- or nitrous oxide-enriched environment of the circle system have produced very high temperatures and fires within the breathing system. For this reason, Baralyme is no longer available in the United States.

Anesthesia ventilators with ascending bellows (bellows that ascend during the expiratory phase) were initially thought to be safer than descending bellows. This is because a breathing system disconnection would be obvious since the ascending bellows would not refill/rise during exhalation. Contemporary machines with descending bellows, however, have been carefully redesigned to address these initial limitations. Current descending bellows ventilators have featherlight bellows, an electric eye at the bottom of the bellows housing to detect bellows movement, and the bellows housing is subjected to PEEP, such that in case of a disconnect, the bellows would actually rise and stay up.

With older design machines, use of the oxygen flush valve during the inspiratory phase of mechanical ventilation could cause barotrauma, particularly in pediatric patients. The newer workstations have fresh-gas decouplers or peak-inspiratory pressure limiters that were designed to prevent these complications. Ventilators that use fresh gas decoupling technology virtually eliminate the possibility of barotrauma by oxygen flushing during the inspiratory phase because fresh gas flow and oxygen flush flow are diverted to the reservoir bag. However, if the reservoir bag has a large leak or is absent altogether, patient awareness under anesthesia and delivery of a lower-than-expected oxygen concentration could occur because of entrainment of room air.

With newer GE Healthcare/Datex-Ohmeda anesthesia ventilators such as the 7900 series SmartVent, both the patient circuit gas and the drive gas are scavenged, resulting in substantially increased volumes of scavenged gas. Thus, the scavenging system flow removal must be set appropriately high to accommodate the increased volume; otherwise, undesired PEEP and contamination of the operating room environment could result.

Modern ventilators compensate for the changes in fresh gas flow, respiratory rate, and I:E ratio so that the delivered tidal volume does not change from that set to be delivered. This compensation is achieved either by "fresh gas decoupling" (in Dräger Fabius, Tiro, and Apollo workstations) or by "fresh gas compensation" (in GE Healthcare/Datex-Ohmeda workstations).
Related Matter
Bourdon Tube
Circle System
Liquid Oxygen Storage Tank
E-Cylinder
Oxygen Proportioning Systems
Oxygen Flush Valve
Vaporizer Interlocking Mechanism
Desflurane
CO2 Absorber
Rebreathing CO2
Ventilator Bellows
Ascending Bellows Ventilator
Wire Anenometers
Scavenger System
Introduction
In this chapter, the anesthesia workstation is examined piece by piece. The normal operation, function, and integration of major anesthesia workstation subsystems are described. More importantly, the potential problems and hazards associated with the various components of the anesthesia delivery system, and the appropriate preoperative checks that may help to detect and prevent such problems, are illustrated.
Anesthesia Workstation Standards and Pre-Use Procedures
A few years ago, a fundamental knowledge of the basic anesthesia machine pneumatics would have sufficed for most anesthesia providers. Today, a detailed understanding of pneumatics, electronics, and even computer science is necessary to fully understand the capabilities and complexities of the anesthesia workstation. Along with the changes in the composition of the anesthesia workstation to include more complex ventilation systems and integrated monitoring, recently there has also been increasing divergence between anesthesia workstation designs from different manufacturers. In 1993, a joint effort between the American Society of Anesthesiologists (ASA) and the U.S. Food and Drug Administration (FDA) produced the 1993 FDA Anesthesia Apparatus Pre-Use Checkout Recommendations (
Appendix A
). This pre-use checklist was versatile and could be applied to most commonly available anesthesia machines equally well and did not require users to vary the pre-use procedure significantly from machine to machine.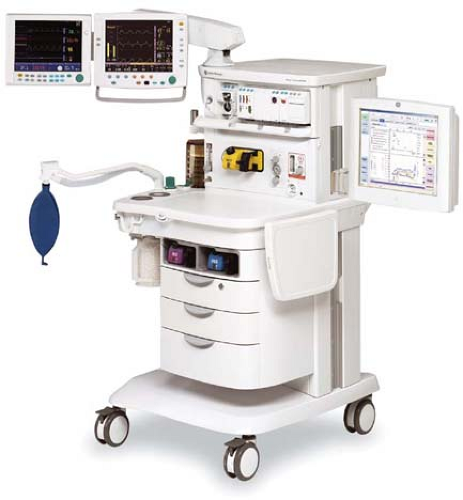 Figure 24.2. GE Healthcare Aisys Anesthesia Carestation. This workstation has electronic control of gas flows using a gas mixer and an electronically controlled Aladin vaporizing system for potent inhaled volatile anesthetics. (Courtesy GE Healthcare.)
Today, because of variations in fundamental anesthesia workstation design, the 1993 FDA pre-use checklist is no longer applicable to many contemporary workstations. Anesthesia providers must be aware of this limitation, and the original equipment manufacturer's recommended pre-use checklist should be followed. Some of the newer workstations have computer-assisted self-tests that automatically perform a part of the pre-use machine checkout procedure. The availability of such automated checkout features further adds to the complexity of constructing a uniform pre-use checklist such as the one utilized in the recent past. Ultimately, the responsibility of performing an adequate pre-use checkout of the anesthesia workstation falls to the individual operator: regardless of the level of his/her training and the quality of technical support. The anesthesia care provider has the ultimate responsibility for proper function of all anesthesia delivery equipment that he or she uses. The anesthesia provider of record must be aware of which anesthesia workstation components are checked out by the automated self-tests and which ones are not. Because of the number of workstations currently available and the variability among their self-testing procedures, the following discussion will be limited to general topics related to these systems.
Standards for Anesthesia Machines and Workstations
The American National Standards Institute (ANSI) and the American Society for Testing and Materials (ASTM) define standards for anesthesia machines and workstations, and provide guidelines to manufacturers regarding their minimum performance, design characteristics, and safety requirements. Newly manufactured workstations must have monitors that measure the following parameters: continuous breathing system pressure, exhaled tidal volume, ventilatory CO
2
concentration, anesthetic vapor concentration, inspired oxygen concentration, oxygen supply pressure, arterial hemoglobin oxygen saturation, arterial blood pressure, and continuous electrocardiogram. The anesthesia workstation must have a prioritized alarm system that groups the alarms into three categories: high, medium, and low priority. These monitors and alarms may be enabled automatically and made to function by turning on the anesthesia workstation, or the monitors and alarms can be enabled manually and made functional by following a pre-use checklist.
2
,
3
Perhaps just as important as the specifications for new anesthesia machines and workstations that are introduced into clinical care are the characteristics that render older machines obsolete. This is not an inconsequential issue, since the financial investment for replacing older machines is significant. The ASA document, "Guidelines for Determining Anesthesia Machine Obsolescence," addresses some of the absolute as well as relative criteria that can help institutions make a decision on when even otherwise functioning equipment should be replaced.
4
Failure of Anesthesia Equipment
An 11-year study of 1,000 anesthesia incidents in the United Kingdom revealed that the most common failure was due to an equipment leak (61/1,000).
5
The authors stated the most likely underlying cause of system leaks was due to "design weakness"; for example, push-on tapers in breathing circuits that can easily become disconnected. Poor equipment maintenance and setup were the second most common underlying causes of equipment failure. Equipment failure due to entrapped cables may result in the inability to ventilate (thus warranting careful attention to organization and tidiness of the anesthesia workstation environment by the anesthesia provider).
6
,
7
,
8
The authors found that the pulse oximeter alarm was the most common, principal monitor alerting the anesthesiologist to an equipment problem.
In a review of the ASA "Closed Claims" database, Caplan et al. found that although claims related to the medical gas-delivery system were rare, when they occurred, they were usually severe, 76% resulting in death or permanent brain injury. The most common malfunction in Caplan et al's review was the breathing circuit (39%), followed by vaporizers (21%), ventilators (17%), gas tanks or gas lines (11%), and the anesthesia machine itself (7%). Use error was judged to be the cause in 75% of the 72 gas delivery equipment claims reviewed, while pure failure of equipment was considered the cause in the remainder.
9
Safety Features of Newer Anesthesia Workstations
Older conventional anesthesia machines have design limitations that limit their safety. For example, some machines may lack features to prevent barotrauma during oxygen flush, lack automated pre-use checkout, have multiple external connections, and have gas-driven ventilator bellows that do not fully empty and which may allow "breath stacking" as well as inaccurate tidal volume delivery.
10
Modern workstations have designs that incorporate additional safety features such as fresh gas decoupling to prevent barotrauma during oxygen flush, have integrated, software-driven self-checkout routines, have limited external connections, and have electronic, piston-driven ventilators that deliver accurate tidal volumes.
10
Table 24-1
summarizes relevant safety features of newer anesthesia workstations.
Checkout of the Anesthesia Workstation
Web-Based Anesthesia Software Simulation, the Virtual Anesthesia Machine
The advances in web-based application technology, as well as trends to incorporate simulation into anesthesia training and education, have generated development of online anesthesia simulation resources. The Virtual Anesthesia Machine (VAM) is a web-based anesthesia simulation environment (
Fig. 24-21
) that provides information on the function of anesthesia machines along with tutorials and operational scenarios, including failure modes of new and traditional anesthesia workstations.
64
It is available for use free of charge. The VAM allows the user to adjust most of the controls found on a modern anesthesia workstation: gas flows, ventilator settings, etc. The authors of the VAM, in collaboration with the Anesthesia Patient Safety Foundation (APSF), have created the Anesthesia Machine Workbook (AMW). The AMW provides additional information and tutorials covering six anesthesia machine subsystems: the high-pressure system, the low-pressure system, the breathing circuit, manual ventilation, mechanical ventilation, and the scavenging system.
65
Vaporizers
As dramatically as the evolution of the anesthesia workstation has been in recent years, vaporizers have also changed from rudimentary ether inhalers and the "Copper Kettle" to the temperature-compensated, computer-controlled, and flow-sensing devices in use today. In 1993, with the introduction of desflurane to the clinical setting, an even more sophisticated vaporizer was introduced to handle the unique physical properties of this agent. Now, a new generation of anesthesia vaporizers blending traditional technology and "new" computerized control technology has emerged in the GE-Datex Aladin cassette vaporizer system. Before proceeding with a discussion of variable bypass vaporizers, the Datex-Ohmeda Tec 6 desflurane vaporizer and the Datex-Ohmeda Aladin cassette vaporizer, it is important to review certain physical principles to facilitate understanding of the operating principles, construction, and design of contemporary volatile anesthetic vaporizers.
Physics
Vapor Pressure
Contemporary inhaled volatile anesthetics exist in the liquid state at temperatures below 20°C. When a volatile liquid is in a closed container, molecules escape from the liquid phase to the vapor phase until the number of molecules in the vapor phase is constant. These molecules in the vapor phase bombard the wall of
the container and create a pressure known as the
saturated vapor pressure.
As the temperature increases, more molecules enter the vapor phase, and the vapor pressure increases (
Fig. 24-22
). Vapor pressure is independent of atmospheric pressure and is dependent only on the temperature and physical characteristics of the liquid. The
boiling point
of a liquid is defined as that temperature at which the vapor pressure equals atmospheric pressure.
49
,
66
,
67
At 760 mm Hg, the boiling points for desflurane, isoflurane, halothane, enflurane, and sevoflurane are approximately 22.8, 48.5, 50.2, 56.5, and 58.5°C, respectively. Unlike other contemporary inhaled anesthetics, desflurane boils at temperatures that may be encountered in particularly warm clinical settings such as pediatric and burn operating rooms. This unique physical characteristic alone mandates a special vaporizer design to control the delivery of desflurane. If agent-specific vaporizers are accidentally filled with incorrect liquid anesthetic agents, the resulting mixtures of volatile agents may demonstrate properties that differ from those of the individual component agents. The altered vapor pressure and other physical properties of the mixtures that result from the mixing of various agents may alter the output of the vaporizer (see Variable Bypass Vaporizers: Misfilling section).
68
Premium Wordpress Themes by UFO Themes
WordPress theme by UFO themes