CHAPTER 13
---
Documentation, Billing, and Coding
---
Multiple issues related to documentation, billing, and coding are facts of life for physicians practicing interventional pain management. Emphasis continues on the description and definition of what the physician does for and to the patient. Various issues related to billing and coding in interventional pain management requires understanding of procedural coding systems, diagnostic coding systems, and appropriate documentation for interventional techniques and other services provided by physicians. Consequently, documentation of medical services is necessary to provide information, which is medically necessary and indicated, to assist health care professionals in providing services to patients. Furthermore, appropriate documentation, billing, and coding also reflect the competence and character of the physician while assisting in the financial survival.
DIAGNOSTIC CODING SYSTEMS
The medical necessity for any physician or provider encounter requires appropriate diagnosis and coding by the International Classification of Diseases, Ninth Revision, Clinical Modification (ICD-9-CM) to justify services rendered and to indicate the severity of a patient's condition.1,2 Coding should be completed to the highest degree of certainty for each encounter. Coding also should correlate with multiple components of a patient's medical record, including initial evaluation or follow-up visits and the billing statement.
The ICD-9-CM is a coding system used to report patient illnesses, injuries, complaints, or symptoms, termed diagnoses.2 The ICD-9-CM communicates to third-party payers—the need for medical services or why a physician performed a service. The ICD-9-CM system consists of code numbers and narrative descriptions similar to those found in the Current Procedural Terminology (CPT), even though the two systems are distinctly separate and different.
In addition to the ICD-9-CM diagnostic coding systems, other diagnostic coding systems are also available. The Diagnostic and Statistical Manual of Mental Disorders, 4th edition (DSM-IV), for psychiatric and mental health services is one such system.3 The International Association for the Study of Pain (IASP) also has published a diagnostic classification of pain disorders, a coding system entirely different from the ICD-9-CM and the DSM-IV.4
Subsequent to ICD-9, ICD-10, the 10th revision has been introduced for coding of diseases, signs and symptoms, abnormal findings, complaints, social circumstances, and external causes of injury or diseases, as classified by the World Health Organization (WHO).5 While the United States is considering its application, approximately 25 countries already use ICD-10 for reimbursement and resource allocation in their health systems. The United States will begin official use of ICD-10 on October 1, 2013, using clinical modification of ICD-10-CM for diagnosis coding and procedure coding and ICD-10-PCS for inpatient hospital procedure coding.5
PROCEDURAL CODING SYSTEMS
Procedural coding systems communicate the procedures and services provided to patients and the reasons they were provided. It is required for physicians to understand procedural coding systems not only for proper reimbursement and for appropriate record keeping, but also to avoid fraud and abuse implications. The advent of the Medicare resource–based relative value scale (RVS) replacing the long existing usual, reasonable, customary charge; impact of fraud and abuse regulations on medical practices; and, the economic impact of improper coding and the positive results of accurate documentation and coding have made it mandatory for providers to understand procedural coding systems, along with diagnostic coding systems.6 Procedural coding systems consist of CPT, ICD-9, and Healthcare Common Procedure Coding System (HCPCS).1,2,6–10
• CPT, developed and updated by the American Medical Association (AMA), is the most commonly used coding system not only in the United States, but also in other countries.
• The second popular coding system is the Centers for Medicare and Medicaid Services (CMS) common procedure coding system known as HCPCS.10
MEDICAL NECESSITY
Medical necessity requires appropriate diagnosis and coding by the ICD-9-CM to justify services rendered and indicates the severity of a patient's condition.11 The Balanced Budget Act (BBA) (HR 2015, Section 4317) requires all physicians to provide diagnostic information for all Medicare/Medicaid patients starting from January 1, 1998.12,13 Physicians are required to code by listing the ICD-9-CM diagnostic codes shown in the medical record to be chiefly responsible or the services provided. Coding should be to the highest degree of certainty for each encounter. Medical necessity is defined in numerous ways:
• Black's Dictionary of Law14 defined medical necessity as "an absolute physical necessity, an inevitability, or convenient, useful, appropriate, suitable, proper or conducive to the end sought."
• The Centers for Medicare and Medicaid Services (CMS)15 defined medical necessity in these terms: "no payment may be made under Part A or Part B for any expense incurred for items or services which … are not reasonable and necessary for the diagnosis or treatment of illness or injury or to improve the functioning of a participant."
• The American Medical Association (AMA)16 defined medical necessity as, "health care services or procedures that a prudent physician would provide to a patient for the purpose of preventing, diagnosing or treating an illness, injury, disease or its symptoms in a manner that is:

In accordance with generally accepted standards of medical practice.

Clinically appropriate in terms of type, frequency, extent, site, and duration.

Not primarily for the convenience of the patient, physician, or other healthcare provider."
WIDE ARENA OF DOCUMENTATION
Federal, state, third party payor, and managed care plans rely heavily on provider documentation when assessing the claims for various parameters. These include the following:
• Was the billed service actually rendered or provided to the patient?
• Was the level of service or extent of the service accurately reported?
• Was the service or procedure medically necessary?
• Was the claim sent to the correct primary insurer for the service or procedure performed?
Medical Record
A medical record is a document with confidential information that functions as a clinical record and a business record. The medical record (Table 13-1) facilitates various functions:9,16–19
• The ability of a physician and other health care professionals to evaluate and plan patients' treatment and to monitor their health care over a period of time.
• Communication and continuity of care among physicians and other health care professionals involved in patients' care.
• Accurate and timely claims review and payment.
• Appropriate utilization review and quality of care evaluations.
• Collection of data that may be useful for research and education.
---
TABLE 13-1. Functions and Requirements of Patient's Medical Record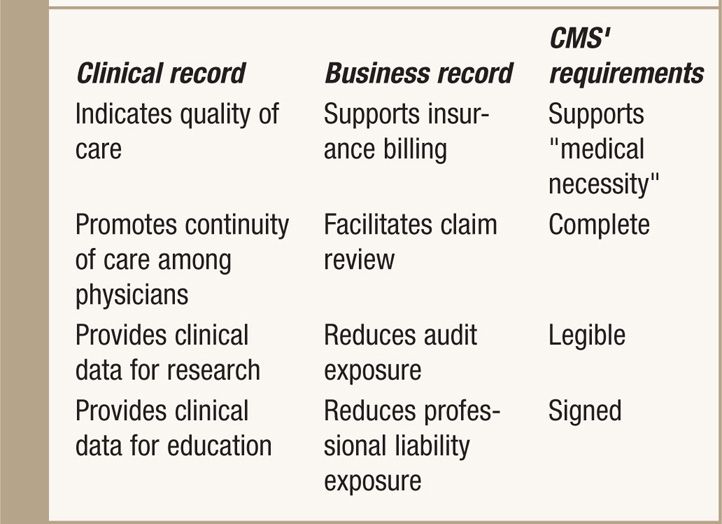 The typical information for an interventional pain management medical chart (electronic and/or hard copy) is as follows:
• Patient demographic data

Medical insurance card copy

Patient's driver license copy

Patient guarantee and authorization forms

Advanced beneficiary note
• Summary sheet with problems and medication history
• Patient questionnaires
• Progress notes
• Laboratory test results

Radiographic evaluation results

Results of various medical tests
• Medical records from other providers

Facility notes

Consultation reports

Correspondence
Documentation Process
A multitude of personnel associated with a practice or a facility are responsible for documentation. They include physician assistants, nurse practitioners, clinical nurse specialists, physical therapists, psychologists, nurses, and medical assistants who obtain patient histories and vital signs, administer injections, and otherwise provide certain restricted services.
To meet the entire documentation criteria, the following checklist must be utilized:
• Authorization for making entries and policies should be defended.

Support the medical necessity of the service performed.

Provide a clear description of the procedure or service including technique and end results.

Make it clear that the procedure was performed by the reporting or billing physician.

Document appropriate and specific diagnostic code as ICD-9-CM diagnostic code.

Provide documentation of indications and medical necessity, which may be reviewed by payors at any time.

Follow correct coding initiatives (CCIs) and Local Coverage Determinations (LCDs) with the limitations, which become part of documentation.
Electronic Documentation
The evolution of medical records from paper to electronic changes the work processes for seeing a patient for storing information, for accessing information, and the look of the output when the note is printed. However, using electronic health records or electronic medical records does not change the duty to comply with the basic medical record guidelines. Some of the issues such as legibility, storage in one place, locking the records in the office at night, and off-site access become nonissues.
Types of Documentation
Documentation includes evaluation and management services and interventional techniques. Documentation for interventional techniques may vary based on whether the procedure was performed in a facility setting such as hospital outpatient department or ambulatory surgery center (ASC) versus in a physician's office.
DOCUMENTATION OF INTERVENTIONAL PROCEDURES
All interventional techniques are considered surgical procedures. Documentation requirements are as follows:
• History and physical
• Indications and medical necessity
• Intraoperative procedural description
• Postoperative monitoring and ambulation
• Discharge/disposition
Multiple developments in evolution of interventional pain management include changes in CPT 2000 to 20117,8,11,12; the final rules for 2011 on physician payment policies; the Medicare program prospective payment system for hospital outpatient services and ASCs; and ongoing development of CCIs, affecting almost all interventional techniques.
Issues of correct coding and medical necessity and guidelines with regards to effectiveness and frequency and number of interventions, combination of blocks/interventions, and number of interventions per setting continue to remain contentious.20–24 Further, enactment of the Affordable Care Act (ACA)25 also is responsible for significant changes in not only billing, coding, etc, but the entire practice of medicine.
CORRECT CODING POLICIES
A multitude of codes reflect the wide spectrum of services provided by various medical providers, and many medical services can be rendered by different methods and combinations of various procedures. Hence, multiple codes describing similar services are frequently necessary to accurately reflect the particular service a physician performs. However, when multiple procedures are performed at the same session, the procedure and postprocedure work do not have to be repeated for each procedure; and, therefore, a comprehensive code describing the multiple services commonly performed together can be used. Many activities which are integral to a procedure are considered as generic activities and are assumed to be included as acceptable medical/surgical practice and, while they could be performed separately, they should not be considered as such when a code narrative is defined. Hence, all services integral to accomplishing a procedure will be considered to be included in that procedure and, therefore, will be considered a component and part of the comprehensive code.
Standards of Medical/Surgical Practice
Many of the provider activities during a procedure are integral to a procedure and termed as generic activities, which are assumed to be included as acceptable medical/surgical practice, considered to be included in that procedure and therefore considered a component of the procedure. Some generic services integral to standard medical/surgical services include many of the components as illustrated in Table 13-2.
---
Full access? Get Clinical Tree