Fig. 14.1
Plain abdominal radiograph of a patient with gallstone ileus. Note the presence of pneumobilia depicted in the circled area. Gallstones may not be present due to lack of calcium composition
Ultrasound
Ultrasound has become the initial diagnostic test of choice in patients with suspected biliary disease. The test can be rapidly performed at the patient's bedside and does not require the use of radiation. Ultrasound is highly accurate for identifying stones that are ≥5 mm in size (>96 %) [
32
]. In order to detect stones, they must be echogenic, have posterior acoustic shadowing, and be mobile (see Fig.
14.2
). False-negative results may be seen with decreased sonographer experience, large amounts of bowel gas, small stone size (<3 mm), or with soft pigmented stones ("brown stones") [
32
–
34
]. Examining the gallbladder with the patient in multiple different scanning positions can lower the rate of false negative exams.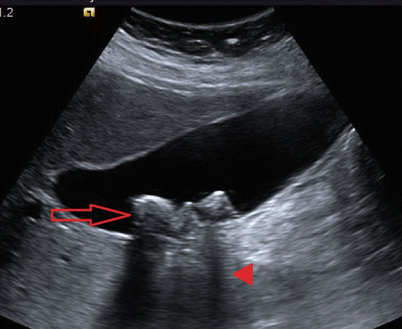 Fig. 14.2
Abdominal ultrasound documenting cholelithiasis. Note the hyperechoic stones (
arrow
) and posterior acoustic shadowing (
arrowhead
)
Ultrasonography is also helpful in establishing the diagnosis of acute and chronic cholecystitis. In the setting of acute cholecystitis, the most reliable finding is a sonographic Murphy's sign or tenderness over the gallbladder with transducer pressure. This finding is 87 % specific for the diagnosis of acute cholecystitis and has a positive predictive value of 92 % when stones are also visualized [
35
]. False-negative sonographic Murphy's sign may occur in patients that are immunosuppressed, obtunded, recently medicated, or have denervated gallbladders (i.e., diabetics or gangrene of the gallbladder) [
32
]. Other findings that are indicative of acute cholecystitis include gallbladder wall thickening (>3 mm), which is present in 50 % of cases, as well as the presence of pericholecystic fluid (see Fig.
14.3
) [
32
,
35
]. It should be noted, however, that these findings are nonspecific and may occur with adjacent right upper quadrant pathology. The ultrasonographic diagnosis of chronic cholecystitis can also be suggested by nonspecific gallbladder wall thickening due to fibrosis with resultant contraction and near obliteration of the gallbladder lumen producing the "double arc" sign [
36
].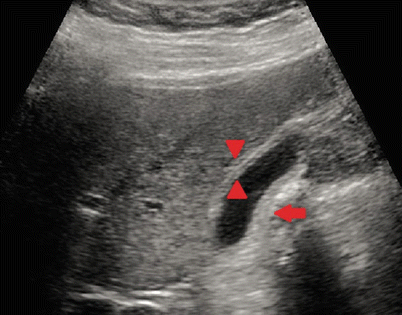 Fig. 14.3
Ultrasound depicting the findings of acute cholecystitis. Note the presence of gallbladder wall thickening (
double arrowhead
) and pericholecystic fluid (
single arrow
)
It should also be noted that right upper quadrant ultrasound is also the initial imaging study of choice to screen for choledocholithiasis. It allows for quick assessment of the bile duct size and continuity. The extrahepatic common bile duct should be measured at the level of the right hepatic artery and not exceed 6 mm, while the intrahepatic bile ducts should not exceed 2 mm in size [
34
]. With adequate sonographer experience, the level of biliary obstruction can be identified in 92 % of patients, and overall sensitivity for choledocholithiasis can reach 75 % [
34
]. It is important to emphasize that choledocholithiasis can also be present in the absence of biliary ductal dilation in 25–33 % of cases [
37
]. When this occurs or when stones are less than 5 mm in diameter combined with overshadowing by bowel gas, the sensitivity of ultrasound drops considerably. Endoscopic ultrasonography has considerably better sensitivity at detecting choledocholithiasis (96 %) and should be considered in select cases of presumptive biliary obstruction (i.e., low or intermediate probability of retained common duct stones) [
38
]. Endoscopic ultrasound has been shown to have equivalent sensitivity and specificity to endoscopic retrograde cholangiopancreatography (ERCP) and avoids not only radiation exposure but also potential complications (i.e., bleeding, perforation, and pancreatitis). In a large review of patients undergoing both endoscopic ultrasound and ERCP, Petrov and Savides [
39
] found that 67 % of patients could be spared ERCP with a negative ultrasound examination without any documented recurrence of common bile duct stones. Additionally, the safety of endoscopic ultrasound in elderly patients with comorbidities was demonstrated in a group of 1000 patients, which revealed that there were no age-related differences in procedure-related complications [
40
].
Biliary Scintigraphy (HIDA)
Biliary scintigraphy involves the administration of radiolabeled technetium iminodiacetic acid, which is taken up by the hepatic parenchyma and excreted into the bile with eventual flow into the gallbladder. The use of HIDA has largely declined into a second-line test for calculous biliary disease due to its increased expense, amount of time needed to complete the study, and the use of ionizing radiation. HIDA is considered positive for acute cholecystitis when there is the absence of gallbladder visualization within 60 min (see Fig.
14.4
). This test can be carried out in a delayed fashion for up to 4 h; nonvisualization during this extended time frame is considered consistent with chronic cholecystitis [
41
]. Scintigraphy has excellent diagnostic sensitivity (>95 %), particularly in nonhospitalized patients that are much less likely to have false-positive imaging studies [
41
]. False-positive studies may be seen in up to 30–40 % of patients that are hospitalized for a reason other than abdominal pain, which is a common scenario in the elderly population [
42
]. Reasons for false-positive exams include: prolonged fasting, cholestasis secondary to hepatic disease, or prolonged parenteral nutrition [
32
]. HIDA can also play a role in diagnosing postoperative biliary complications (i.e., diagnosing postoperative bile leak) as well as in those patients with suspected biliary motility disorders such as biliary dyskinesia. However, due to the previously mentioned limitations, differences in cost and radiation exposure ultrasonography should be considered as the initial diagnostic imaging test of choice for most biliary diseases.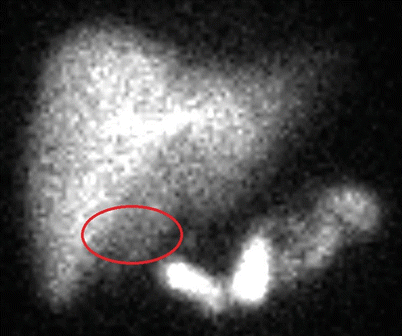 Fig. 14.4
Example of a positive HIDA scan. Note the absence of radioactivity in the area of the gallbladder fossa (
highlighted oval
)
Computerized Tomography
Computerized tomography (CT) has variable sensitivity in detecting gallstones secondary to the variable amount of calcification present and thus is also a second-line imaging study in the work-up of biliary disease. Those stones that are predominantly composed of cholesterol (>60 %) will be more difficult to identify due to their similar radiographic density as the surrounding bile. CT has lower sensitivity as compared to ultrasonography in identifying choledocholithiasis (75–80 %) (see Fig.
14.5
) [
32
,
43
] but can provide information regarding ductal anatomy. CT imaging is most useful in demonstrating gallbladder size, wall thickness, and surrounding inflammatory changes associated with acute cholecystitis making it highly specific (99 %) for this particular diagnosis (see Fig.
14.6
) [
44
]. In the setting of suspected malignancy, CT is the diagnostic image of choice because it allows assessment of not only the gallbladder but also surrounding structures such as the liver, porta hepatis, identification of lymphadenopathy, or pancreaticoduodenal pathology [
45
]. In the elderly patient with pre-existing renal disease, diabetes, or certain medications (i.e., ACE inhibitors, NSAIDs, or metformin), caution should be taken with the administration of intravenous contrast as this can precipitate or worsen renal failure. Gentle intravenous fluid administration, sodium bicarbonate, and/or Mucomyst prophylaxis should be considered in these patients as well as ensuring that iso-osmolar contrast is administered [
46
]. Because of the increased cost and associated radiation exposure, CT scanning should only be considered when there is diagnostic uncertainty and other abdominal pathology is suspected [
47
].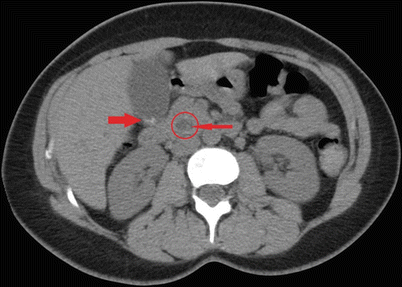 Fig. 14.5
CAT scan of the abdomen showing a stone (
thin arrow
) in a dilated common bile duct (
circled
) along with cholelithiasis (
thick arrow
)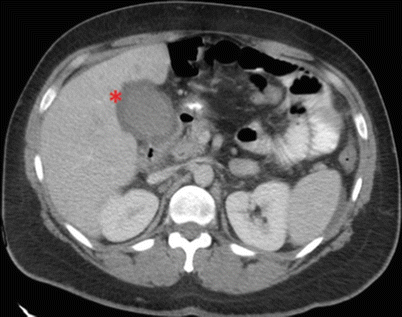 Fig. 14.6
CAT scan of the abdomen showing evidence of acute cholecystitis. Notice distention of the gallbladder (
asterisk
) with surrounding pericholecystic fluid
Magnetic Resonance Imaging and Cholangiopancreatography (MRI/MRCP)
MRI, though not frequently used as an initial imaging test, has excellent ability to identify gallstones due to the sharp contrast in signal intensity between bile and stones on T2-weighted images [
48
]. This excellent resolution of stones which are as small as 2 mm in size has made MRCP the diagnostic test of choice for identifying choledocholithiasis (see Fig.
14.7
) in asymptomatic patients with moderate to high probability based upon clinical examination and laboratory studies. MRCP has excellent sensitivity (81–100 %) and specificity (85–99 %) for choledocholithiasis and is comparable to ERCP in diagnostic accuracy without the invasive risk [
49
]. MRCP becomes less sensitive in studies with microlithiasis, pneumobilia, motion artifact, or stones in the peri-ampullary region [
50
]. MRI can also be useful in those with malignant disease as it images the gallbladder wall, liver parenchyma, and biliary tree with high resolution. MRI may be difficult to obtain in elderly patients with dementia or claustrophobia due to the tight confines of the imaging magnet. Also those with pacemaker or defibrillator devices may also not be candidates for MRI, though certain devices have been prospectively observed after imaging without any adverse effects [
51
].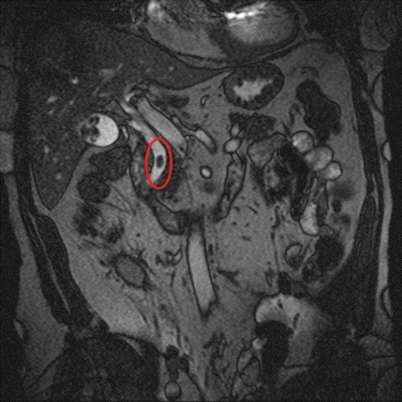 Fig. 14.7
T2-weighted MRCP showing a large stone in the common bile duct (
highlighted oval
)
Invasive Imaging
Endoscopic Retrograde Cholangiopancreatography
Advancements in endoscopy techniques and increased experience have made ERCP widely available, and it remains the gold standard for the diagnosis of the majority of biliary pathology. However, due to its invasive nature and improvements in the aforementioned noninvasive imaging techniques, ERCP has largely become a planned therapeutic procedure. Those patients presenting with symptomatic choledocholithiasis (i.e., pain, jaundice, fever) or with documented common duct stones on imaging are clearly potential candidates for ERCP (see Fig.
14.8
). Predicting which asymptomatic patients will ultimately require ERCP is more difficult, but advanced age (>55 years), hyperbilirubinemia (>1.8 mg/dl), and common duct dilation have all been shown to increase the likelihood of a therapeutic ERCP [
52
]. As previously mentioned, endoscopic ultrasound prior to ERCP may eliminate a number of nontherapeutic studies. The success rate for ERCP for common bile duct procedures is near 98 % in experienced hands [
53
]. ERCP is associated with a number of well-described complications, with the most common being post ERCP pancreatitis, with a reported incidence ranging from 5 to 10 %. Despite the possibility of post ERCP complications, elderly patients appear to tolerate the procedure as well as their younger counterparts [
54
].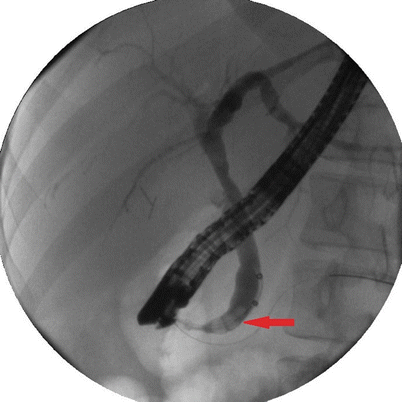 Fig. 14.8
An ERCP demonstrating a dilated common bile duct with multiple stones (
arrow
)
Percutaneous Transhepatic Cholangiography (PTC)
PTC involves the percutaneous passage of a needle into the liver parenchyma under fluoroscopic or ultrasound guidance and then either into the gallbladder or biliary tree for diagnostic and/or therapeutic purposes (Fig.
14.9
). This technique was initially introduced in 1979 and remains a valuable option for treating biliary pathology when ERCP is either unavailable or unsuccessful, particularly in the critically ill population [
55
,
56
]. This less invasive technique can be used to successfully treat cholangitis or surgery-related biliary complications in elderly critically ill patients with a high success rate (>95 % [
57
]). Alternatively, the gallbladder can be cannulated to allow decompression for high-risk patients presenting with acute cholecystitis which is known as a percutaneous cholecystostomy tube. It should be noted that PTC carries a greater complication risk than ERCP because the catheter is passed through the liver into the biliary tree. This procedure can result in post-procedure hemorrhage, septic shock from bacterial translocation, or bile peritonitis.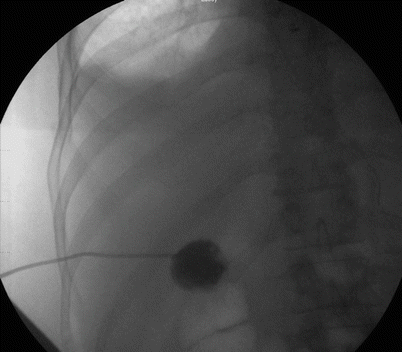 Fig. 14.9
PTC done under fluoroscopy for acute cholecystitis
Benign Calculous Diseases