Fig. 18.1
Peripheral intravenous access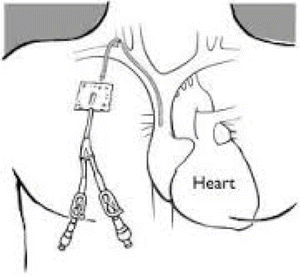 Fig. 18.2
Central intravenous access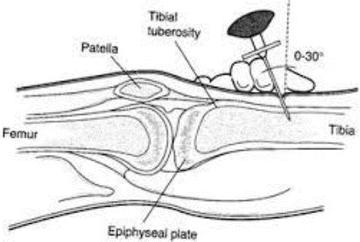 Fig. 18.3
Intraosseous intravenous access
All patients with acute UGIB should be typed and crossmatched for blood products. While transfusion of red blood cells can be life-saving in situations of severe hemodynamic compromise of active coronary artery disease, less aggressive transfusion strategies are preferred in most cases [
2
]. Overtransfusion can rapidly increase intravascular volume and result in further bleeding. In patients with a hemoglobin less than 70 g/L, the target hemoglobin for transfusion resuscitation is 70–90 g/L, and this more restrictive approach has been associated with less rebleeding and lower mortality [
3
]. The use of platelet transfusion is similarly restricted to severe thrombocytopenia
[
4
] (Fig.
18.4
).

Nasogastric Lavage
What was once a traditional dogmatic mainstay in the management of acute UGIB has largely fallen out of favor as a routine intervention [
4
]. The placement of a nasogastric (NG) tube is uncomfortable and not associated with any reduction in rebleeding or mortality [
5
]. There are rare instances where aggressive lavage through an oral gastric lavage system may be used to improve visualization, but routine placement of an NG tube is no longer advised
.
Medical Therapy in Non-variceal UGIB
Often endoscopic visualization and delivery of necessary therapy is limited and hampered by the presence of blood and clots in the upper GI tract. The use of a prokinetic agent such as erythromycin 30 min prior to the planned endoscopy can help to clear contents from the upper GI tract. This intervention has been shown to shorten the duration of endoscopy and reduce the need for repeat endoscopy [
6
].
There has been controversy as to the merits (or lack thereof) of pre-endoscopic use of
proton pump inhibitor (PPI) therapy
. The largest meta-analysis on this issue, involving more than 2000 patients, concluded that pre-endoscopic proton pump inhibition therapy essentially downstages high-risk endoscopic lesions [
7
]. There were less patients with high-risk endoscopic lesions in the PPI-treated group and consequently less need for endoscopic intervention. When used, a bolus dose of 80 mg intravenously of PPI is administered followed by an infusion of 8 mg/hr. This infusion is continued until endoscopic intervention for diagnosis of the bleeding etiology. If endoscopy shows a low-risk lesion, the intravenous infusion of PPI
can be discontinued and replaced by oral once-daily PPI therapy.
If endoscopic therapy is applied to an upper GI bleed, the intravenous PPI
infusion is continued, although debate exists as to the duration. The premise is that acid suppressive therapy will increase clot stability and lessen the effects of acid on coagulation factors [
4
]. Evidence supports the continuation of IV PPI infusion
for high-risk upper GI bleeding lesion that have been treated with endoscopic
hemostasis measures
[
8
]. Thereafter, the intravenous PPI therapy can be switched to oral. A reasonable approach to the use of proton pump inhibitor therapy in acute UGIB is shown below [
4
] (Fig.
18.5
).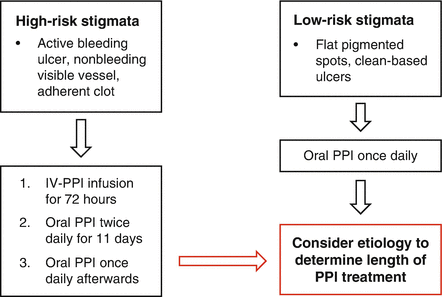 Fig. 18.5
Algorithm
for proton pump inhibitor therapy
for peptic ulcers based on endoscopic findings
Helicobacter pylori

Eradication

Helicobacter pylori

(

H. pylori

) is an established contributing cause to upper GI bleeding. All patients presenting with an acute UGIB should be tested for

H.pylori

[

9

]. Serology is the preferred method as endoscopic biopsies or urea breath testing can be falsely negative during acute bleeding. If testing is negative during the acute incident, follow-up testing 4 weeks later should be undertaken to ensure a true negative status. Numerous antibiotic/PPI regimens exist and are largely determined by regional antimicrobial resistance patterns. Confirmation of eradication should be performed with a urea breath test

.
Endoscopic Evaluation in Non-variceal UGIB
Premium Wordpress Themes by UFO Themes
WordPress theme by UFO themes